Number of New Cases Filed in Ohio Courts Drops Again in 2012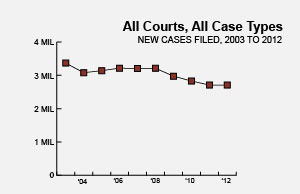 The number of new cases filed in Ohio courts continues to decrease.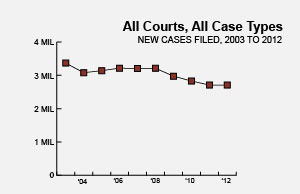 The number of new cases filed in Ohio courts continues to decrease.
The total number of new cases filed in Ohio courts decreased slightly in 2012 and hasn't been this low since 1985, according to the annual Ohio Courts Statistical Summary. These results and others are contained in the 2012 report released today by the Ohio Supreme Court.
What's interesting about 2012 compared to 2011 and 2010 – when the total number of new cases filed also declined – is that the number of traffic cases increased rather than decreased, according to Brian Farrington, statistics analyst in the Case Management Section. No single case type was the clear driver of the overall slight decrease last year.
For 2012, the total number of new cases (2,707,618) decreased one-tenth of 1 percent compared to 2011.
By analyzing case filing patterns and trends, the Ohio Supreme Court attempts to assist in the efficient administration of justice at all levels of the judiciary. The Ohio Supreme Court does not examine or analyze larger social and governmental trends that may contribute to or influence changes in case filing volumes. Court filings can be affected by a complex variety of factors, including economic conditions, fluctuations in crime rates, changes in law, and population levels.
The Ohio Supreme Court analyzes data from Ohio courts over the last 10 years to identify trends. A companion publication – the Ohio Courts Statistical Report – includes raw statistical tables of activity in Ohio's courts from trial courts to appellate courts, including statistics about caseloads, case terminations, and clearance rates from the previous year. (Mayor's courts' statistics are published in a separate report, which will be released in a few weeks.)
Joining the overall statewide caseload at a 10-year low, the total new filings in appeals courts, domestic relations courts, juvenile courts, municipal and county courts, and criminal cases in general division common pleas courts all were at 10-year lows in 2012.
Information contained in the reports is provided to the Ohio Supreme Court on a monthly basis by all courts except for appeals courts and probate courts, which provide statistics on a quarterly basis.

PDF files may be viewed, printed, and searched using the free
Acrobat
®
Reader
Acrobat Reader is a trademark of Adobe Systems Incorporated.