Ohio Supreme Court Featured in National Book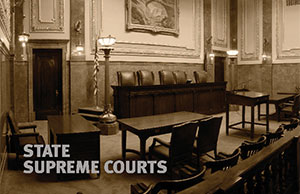 State Supreme Courts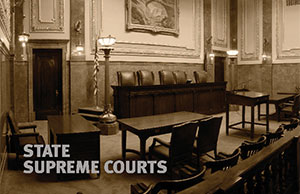 The Thomas J. Moyer Ohio Judicial Center, home to the Supreme Court of Ohio, is featured in a new book, State Supreme Courts.
The Thomas J. Moyer Ohio Judicial Center is featured in a pictorial tour of supreme courthouses and courtrooms across the country and nearby territories. State Supreme Courts is a book that focuses on the culture of the courts and the people they serve. The book profiles 56 jurisdictions, which showcases the buildings and the stories of the courts of last resort.

Published at the end of July, State Supreme Courts is a collaboration of the National Center for State Courts and the Conference of Chief Justices (CCJ).

The book was years in the making. Retired chief justice of Texas, Thomas R. Phillips, proposed the idea in 2008 to his colleagues at the CCJ. He wanted he book to distinguish the different traditions of state judicial systems and the varying types of architecture in the courthouses. The CCJ adopted a resolution in 2010 for all states to participate in the book's publication.

Copies of the book may be ordered and purchased here.

Built in 1933 as the Ohio Departments Building and restored as the home of the Ohio Supreme Court in 2004, the Moyer Judicial Center is also home to the Ohio Court of Claims and certain other offices of the state judicial branch.
The building is considered one of the finest public buildings in Ohio and combines elements of neo-classical architecture and art deco interior design.

For more information about the Moyer Judicial Center or to schedule a visit, click here.