National Conference Highlights Changing Legal Profession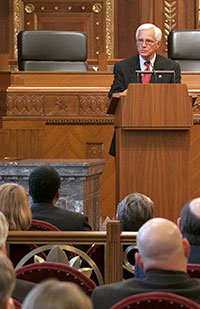 Justice Terrence O'Donnell welcomes the National Legal Mentoring Consortium attendees.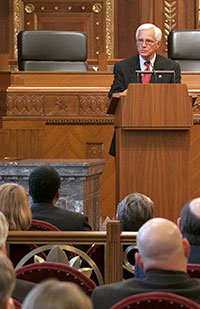 Justice Terrence O'Donnell welcomes the National Legal Mentoring Consortium attendees.
Pairing legal professionals with mentors is the topic of conversation at a national consortium in Columbus.  The National Legal Mentoring Consortium on May 1-3 brought together mentoring experts with leaders from legal organizations from across the country. The goal was to have a national discussion on the importance of mentoring in a changing legal profession. The group also learned how to establish, promote, and support successful mentoring programs.
Ohio Supreme Court Justice Terrence O'Donnell helped put together Ohio's Lawyer to Lawyer Mentoring Program and since 2003 he has led statewide efforts to increase professionalism among lawyers and judges across Ohio. Justice O'Donnell supports the expansion and strengthening of lawyer mentoring in Ohio. He welcomed the conference attendees on Law Day, May 1.
"As we approach a great conference talking about mentoring and the way we share our experiences with those who can benefit, let's keep in mind how privileged we are to serve in a country where we respect the rule of law," Justice O'Donnell said.
Douglas Dennis with Frost Brown Todd, LLC in Cincinnati spoke at the conference about his law firm's mentoring program and said mentoring is important to the legal profession.
"There are three main reasons that come to mind. One is so that the younger lawyers can understand that it goes beyond making money, but it's also to make the community better than they found it – to pay it forward. Second, it makes the transition easier for a younger lawyer, and third, simply how to behave as a lawyer. You're a lawyer all the time, not just when you're in the courtroom," Dennis said.
Lori Keating, the National Legal Mentoring Consortium chair and Lawyer to Lawyer Mentoring Program administrator through the Ohio Supreme Court's Commission on Professionalism, said that she was excited to showcase Ohio's mentoring program efforts and show how it can work for other associations.
Ohio's Lawyer to Lawyer Mentoring Program is a year-long pairing between new lawyers and experienced practitioners. Keating said it has supported more than 3,000 new lawyers in their first year of practice.
"We've become a leader in this movement, and we're very happy to have this national conference here to host a discussion on a national level," Keating said.
The conference was sponsored by the consortium, the commission, and the Nelson Mullins Riley & Scarborough Center on Professionalism.