Ninth District Judge Hears Oral Arguments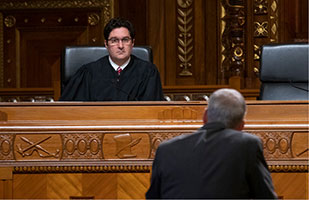 Ninth District Court of Appeals Judge Thomas A. Teodosio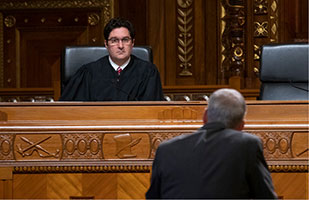 Ninth District Court of Appeals Judge Thomas A. Teodosio
Ninth District Court of Appeals Judge Thomas A. Teodosio served as a visiting judge on the Ohio Supreme Court today and heard oral arguments in a case involving whether a conviction on assault charge can be appealed while a rape charge is pending.
Judge Teodosio replaced Justice Patrick F. Fischer, who recused himself from State of Ohio v. Steven Allen Craig, Case no. 2018-0146.
According to the Ohio Constitution, in the event of a recusal by a justice, the chief justice or acting chief justice can select any of the 69 sitting Ohio appellate court judges to sit temporarily on the Supreme Court.
This is the first time Judge Teodosio has sat during oral arguments.
"It's such an honor serving with the other justices," Judge Teodosio said. "In your career, there are certain pinnacles and this is definitely the pinnacle of my judicial legal career."
Judge Teodosio has sat on the Ninth District since 2017. He was also a Summit County Common Pleas judge from 2006 to 2017. He also served as a member of the Summit County Council. He received his bachelor's and law degree from the University of Akron.
The Ninth District Court of Appeals serves four counties in northern Ohio and the Fourth District Court of Appeals serves 14 counties in southern Ohio. Both districts hear cases from county, municipal and common pleas courts as well as original actions in habeas corpus, mandamus, prohibition, procedendo and quo warranto.