Justice, Judges Stand by Value of Sentencing Database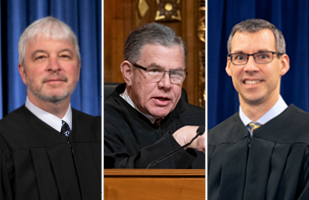 Ohio Supreme Court Justice Michael Donnelly (left), Sixth District Judge Gene Zmuda (center), and First District Judge Pierre Bergeron (right)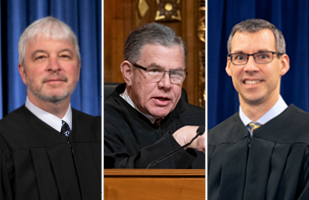 Ohio Supreme Court Justice Michael Donnelly (left), Sixth District Judge Gene Zmuda (center), and First District Judge Pierre Bergeron (right)
Three Ohio appellate judges, including a Supreme Court justice, are defending the merits of a statewide criminal sentencing database in a national journal after criticisms from an Ohio attorney.
Justice Michael Donnelly, First District Court of Appeals Judge Pierre Bergeron, and Sixth District Court of Appeals Judge Gene Zmuda collaborated on a piece published by the Federal Sentencing Reporter this week.
Ohio's criminal sentencing system is broken and the database being developed is a long-overdue key to reforming the unfair system, they wrote.
Judges are "stewards of the greatest system ever designed to resolve disputes and, therefore, as those empowered to see that justice is achieved, we can't afford to pretend that the problem doesn't exist."
Their article is a response to an entry in the same issue of the journal by Capital University Law School Professor Scott Anderson, who claims that keeping track of criminal sentencing data would "undercut the very values that uphold their authority as sentencing judges."
Anderson asserts that local judges are elected as "enforcers of local norms" and criminal laws passed by the state legislature don't have specifications for each county.
The professor further speculates that judges wouldn't want to disclose their sentences in a searchable statewide format for fear that comparisons with judges from other regions of Ohio could hurt them at the local ballot box.
The appellate judges countered that assertion by writing: "Our judges are more concerned with improving our judicial system than fixated on reelection chances."
The response by Justice Donnelly and Judges Bergeron and Zmuda is entitled, "Here Come the Judges: A Judicial Response to Anticipated Concerns over a Statewide Criminal Sentencing Database – Aligning Algorithmic Risk Assessments with Criminal Justice Values."
They argue the database will provide more information to judges and lead to more informed decisions instead of "acting on gut instinct."
All three are members of the task force launched by Chief Justice Maureen O'Connor to develop the database, a project that is ongoing.
Anderson is a former member of the Ohio Criminal Sentencing Commission and a former Licking County prosecutor. His article is entitled, "Anticipating the Judicial Response to Ohio's Proposed Statewide Sentencing Database."      
In their article, the appellate judges offer a hypothetical robbery case.
Instead of following a uniform sentence calculated through a statewide average, as Anderson speculates might become the norm with a database, trial judges would use factors specific to the case in front of them that could lengthen or reduce a sentence.
The judge's explanation for the sentence imposed would be included within the court's entry and provide more context for future sentences.
Currently, "there are no guardrails in place to check a judge's exercise of discretion," the justice and judges explain. "The data will not undermine any norms of proportionality, but will rather enhance them."
The jurists liken the need for judges to "get it right" and to have as much relevant information as possible to the work of physicians, who seek to learn everything they can about a person's condition before recommending medication or a medical procedure.
"Why would we tell judges that they must operate in the dark when other professions certainly don't do so?" they ask.
Acknowledging facts and circumstances helps limit bias that judges might not even realize they have, which leads to another point of contention with Anderson's article.
"'Local norms' can sometimes be a manifestation of 'implicit bias,'" the piece notes.
The notion of local influence is evident since judges are elected by their constituents to serve the people, the justice and judges state.
While the courts play a crucial role in the justice system, Anderson argues they're the last line of defense behind more-influential components to regulate systemic fairness – law enforcement and prosecutors.
"Police officers choose who to arrest and who to put in the system. Prosecutors determine who to charge and what with," he says.
The murder of George Floyd in May 2020 sparked the most recent wave of public outcry for criminal justice reform. While people were vocal about the police misconduct that led to his death, protests that shook the nation highlighted issues among all stakeholders.
"[Protesters] were criticizing the entire judicial process — including, importantly, racial disparities in sentencing (that have been documented in data available from other states)," the jurists specify. "Knowing that this may be a problem here in Ohio, don't we want to know the extent of the problem and start working to solve it?"
The pursuit of a criminal sentencing database originates with the late Chief Justice Thomas Moyer more than 20 years ago with the Ohio Commission on Racial Fairness.
That unfulfilled goal is something that sticks with the judicial panel. They conclude their commentary not wanting two more decades to pass without enacting change to further ensure fairness in Ohio's courts.
"We must seize this moment and take this long-overdue step for the betterment of our judicial system and, therefore, our society."