Travel Influential in Judge's Journey to Supreme Court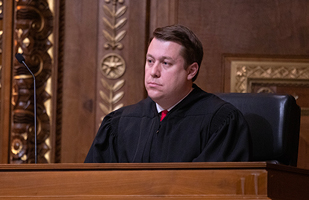 Twelfth District Court of Appeals Judge Matthew Byrne hearing his first cases for the Supreme Court.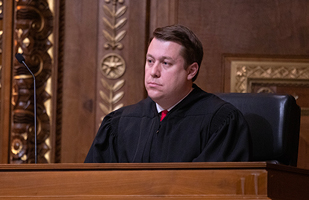 Twelfth District Court of Appeals Judge Matthew Byrne hearing his first cases for the Supreme Court.
Twelfth District Court of Appeals Judge Matthew Byrne loves a good journey – as an appellate judge representing eight counties and a person who has traveled to 43 states. On Tuesday, he reached a new destination – a first-time visiting judge for the Supreme Court of Ohio.
"It is a tremendous responsibility because the Supreme Court is the last word on state law," Judge Byrne said.
He heard two cases. The first was State ex rel. US Bank v. Cuyahoga County, sitting for Justice Joseph T. Deters who recused himself. The second was Highland Tavern LLC et al. v. Michael DeWine, governor of the State of Ohio et al.in place of Justice R. Patrick DeWine, who also recused. According to the Ohio Constitution, in the event of a justice's recusal, the chief justice selects an appellate court judge to sit temporarily on the Supreme Court.
The first case debates whether counties must pay property owners fair market value of homes transferred to land banks. The second argues whether the governor violated the Ohio Constitution with an emergency rule during the COVID-19 pandemic.
Judge Byrne's wide range of legal knowledge comes from his time as a Twelfth District judge and 13 years as an employment law attorney. He has worked trials and appeals at the state and federal levels, with the parties ranging from small businesses to national agencies and international corporations.
"When I first became a lawyer, I had no interest in becoming a judge," he said. "But I realized the appeals court was a great combination of my interest in legal theory and practice, and an opportunity serve the community."
Judge Byrne's service to others has spanned thousands of miles over many years dating back to his childhood. He and his family traveled out-of-state each month for a decade to take care of his aunt, who suffered from multiple sclerosis and required 24-hour assistance.
After college, his first job was at the White House under President George W. Bush. He was part of the staff responsible for selecting candidates to recommend for appointment or nomination to high-level government positions.
"One point that was engrained in me, was to always be in awe of where I was and what I was doing," Judge Byrne said. "I was there to serve the American people."
His many travels prepared Judge Byrne for his biggest cases as a judge. He credits his legal journey with developing a wider understanding of the law and how people interpret it.
"Each instance comes with its challenges, but there's a special duty when you are responsible to uphold the rule of law," said Judge Byrne.