Former Attorney General Dann's Law License Suspended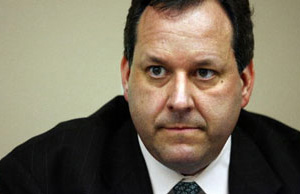 Former Attorney General Marc Dann.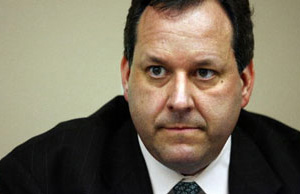 Former Attorney General Marc Dann.
The law license of former Ohio Attorney General Marc E. Dann has been suspended for six months for engaging in conduct that resulted in his conviction on misdemeanor criminal counts of soliciting improper compensation and filing false financial disclosure statements during his tenure as attorney general.
In a 7-0 per curiam opinion announced today, the Supreme Court of Ohio adopted findings by the Board of Commissioners on Grievances and Discipline that Dann "engaged in conduct that adversely reflects on his fitness to practice law" by making improper payments from his political campaign fund to two senior aides while they were employed by the attorney general's office and by filing  2007 and 2008 financial disclosure statements that failed to disclose expense reimbursement checks totaling $17,540 that Dann had received from his campaign committee and failed to disclose that a campaign contributor and his companies had paid more than $20,000 to lease a private jet that transported Dann, his children and others to a seminar in Scottsdale, Arizona.
In rejecting Dann's argument that a stayed license suspension was a sufficient sanction for his misconduct, the court wrote: "While we recognize that Dann has offered substantial mitigating evidence, we note that he has previously been disciplined by this court, he has admitted that he knowingly engaged in the conduct that resulted in his criminal conviction for soliciting improper compensation, and that his conduct with respect to his financial-disclosure statements fell somewhere between reckless and knowing.  He also engaged in this unlawful conduct while serving as the state's chief legal officer and one of the most recognizable attorneys in this state."
"Having considered, Dann's conduct, the applicable aggravating and mitigating factors, and the sanctions imposed for comparable misconduct, we find that the board properly weighed the aggravating and mitigating factors present in this case. Therefore, we overrule Dann's objections, concur with the findings of the board, and agree that a six-month actual license suspension is the appropriate sanction for Dann's misconduct."
Please note: Opinion summaries are prepared by the Office of Public Information for the general public and news media. Opinion summaries are not prepared for every opinion, but only for noteworthy cases. Opinion summaries are not to be considered as official headnotes or syllabi of court opinions. The full text of this and other court opinions are available online.
2011-2026. Disciplinary Counsel v. Dann, Slip Opinion No. 2012-Ohio-5337.
On Certified Report by the Board of Commissioners on Grievances and Discipline, No. 11-024.  Marc Edward Dann, Attorney Registration No. 0039425, is suspended from the practice of law in Ohio for six months.
O'Connor, C.J., and Pfeifer, Lundberg Stratton, O'Donnell, Lanzinger, Cupp, and McGee Brown, JJ., concur.
Opinion: http://www.supremecourt.ohio.gov/rod/docs/pdf/0/2012/2012-Ohio-5337.pdf

View oral argument video of this case.

PDF files may be viewed, printed, and searched using the free
Acrobat
®
Reader
Acrobat Reader is a trademark of Adobe Systems Incorporated.