Driver Being Ticketed Not Liable for Injuries to Police Officer Struck by Vehicle While Writing Citation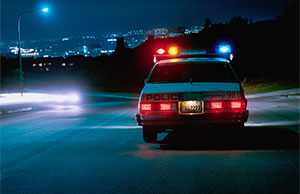 Stopped motorist not liable for injuries to policman struck by another car.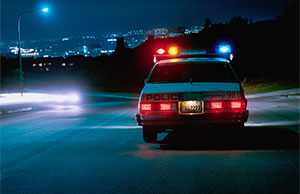 Stopped motorist not liable for injuries to policman struck by another car.
The Eighth District Court of Appeals has affirmed a trial court ruling that a police officer whose car was struck by another vehicle while he was stopped on a roadside writing a citation cannot recover civil damages from  the driver he was ticketing as the "proximate cause"  of the officer's injuries.
Richfield police officer Jeffrey Revlock was injured in March 2011 when his patrol car was struck by another vehicle while Revlock was stopped along  the shoulder of I-77. Revlock had stopped  to investigate a car operated by Hengwei Lin that had recently slid off the snow-covered highway and was stuck in the median.
After speaking with Lin, Revlock returned to his police cruiser where he wrote a crash report and a ticket for Lin's failure to maintain control of his vehicle. While completing the paperwork, Revlock's police cruiser was struck from behind by a vehicle operated by Candace Fredrickson, who had also skidded out of control on the ice-covered pavement.
Revlock settled his claims against Fredrickson and pursued a negligence action against Lin. Revlock alleged that Lin negligently failed to control and operate his vehicle, which proximately caused the accident between his police cruiser and Fredrickson's vehicle. Revlock  further alleged that as a proximate result of Lin's negligence, he had sustained permanent injuries.
Lin moved for summary judgment dismissing Revlock's claims against him, and the trial court granted the motion.  In his decision, the trial judge held that Revlock's claims were defeated by  the common law "fireman's rule," under which a property owner is presumed to be immune from liability for injuries suffered by public safety personnel  in the performance of their job duties absent a showing of willful or wanton misconduct by the owner.
Revlock appealed the grant of summary judgment, asserting among other arguments  that Lin had not asserted the fireman's rule as an affirmative defense, and that whether Lin's negligence had  proximately caused his injuries was a material question of fact that should be decided by  a judge or jury.
In a 3-0 decision announced June 20, the Eighth District affirmed the trial court's grant of summary judgment in favor of Lin. 
Writing for the appellate panel,  Judge Mary Eileen Kilbane wrote: "Revlock argues that the trial court erred when it granted summary judgment because genuine issues of fact remain with respect to the issue of proximate cause. Specifically, the issue of whether it was foreseeable another vehicle could 'slide off' the Interstate and injure Revlock. He contends this issue should be decided by a jury.  … (T)he trial court found as a matter of law that Lin did not owe a duty to Revlock; therefore, Revlock was barred from recovery against Lin. We agree with the trial court. There is nothing in the record that suggests that Lin should have foreseen that Fredrickson's vehicle would strike Revlock's police cruiser while he was completing paperwork. Thus, the trial court properly granted summary judgment in Lin's favor."
Judge Kilbane's opinion was joined by Judges Melody  J. Stewart and Patricia A. Blackmon.
Revlock v. Lin, 2013-Ohio-2544
Opinion: http://www.supremecourt.ohio.gov/rod/docs/pdf/8/2013/2013-ohio-2544.pdf
Appeal From:  Cuyahoga County Common Pleas Court
Judgment Appealed From Is:  Affirmed
Date of Judgment Entry on Appeal: June 20, 2013
Please note: Opinion summaries are prepared by the Office of Public Information for the general public and news media. Opinion summaries are not prepared for every opinion, but only for noteworthy cases. Opinion summaries are not to be considered as official headnotes or syllabi of court opinions. The full text of this and other court opinions are available online.

PDF files may be viewed, printed, and searched using the free
Acrobat
®
Reader
Acrobat Reader is a trademark of Adobe Systems Incorporated.