Supreme Court To Hear Appeal of Public School Teacher Fired for Religious Displays and Teaching
Among Nine Cases to be Heard by the Court on February 26-27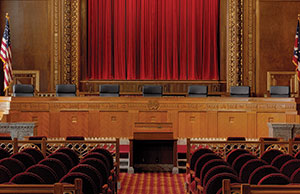 The Ohio Supreme Court hears oral arguments in nine cases on February 26 and 27.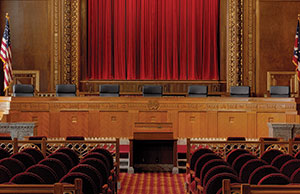 The Ohio Supreme Court hears oral arguments in nine cases on February 26 and 27.
The Supreme Court of Ohio will hear oral arguments in nine cases on February 26 and 27,  including the appeal of a Mt. Vernon middle school  teacher who was fired for refusing to stop presenting extracurricular materials to his students that advocated the religious doctrine of creationism and challenged the reliability of the district's approved science curriculum.
The court's Office of Public Information today released previews summarizing each of the cases that will be argued during the upcoming session.
In  Freshwater v. Mt. Vernon City School District, one of four cases to be argued on Wednesday, February 27,  former middle school teacher John Freshwater asks the court to reverse trial and appellate court decisions that upheld his firing for insubordination and for violating local school district bylaws that prohibit the presentation of classroom materials that advocate the beliefs of any church or religion.
Freshwater asserts that the board's action was a violation of his First Amendment freedoms of speech and religion, and argues that his presentation of creationist theories as an alternative to the theory of evolution was consistent with district policies that encourage teachers to challenge their students' critical-thinking skills. He also contends that the teaching of creationism was not a violation of a district bylaw that prohibits activities that "advance or inhibit any particular religion," asserting that the belief that the universe and all life emanated from a divine creator is not exclusively an evangelical or even a Christian tenet, but is rather a fundamental principle of many of the world's major religions.
The school district, supported by amicus curiae (friend of the court) briefs from groups espousing secular science education and church-state separation, responds that when he addressed a captive audience of eighth grade students in a public school classroom, Freshwater was not engaging in private speech but rather in governmental speech on behalf of the school district.  They point out that court decisions interpreting the Establishment Clause have expressly held that it bars government agencies and their employees from injecting religious beliefs into the conduct of public business. They urge the court to affirm the lower courts' rulings that Freshwater's continuing injection of his personal religious beliefs into his classroom lessons, after multiple warnings to stop doing so, was a clear violation of the Establishment Clause, and this conduct not only permitted but required his termination by the school district.
Other cases to be argued on February 27 include:
Doe v. Bruner,  in which a male Wilmington College student appeals lower court rulings that denied him the ability to use a "John Doe" pseudonym in filing  a civil lawsuit against another male student for damages arising from an alleged sexual assault.
In State v. Dzelajlija the court is asked whether a trial court is required to follow the mandate (order) of a court of appeals to re-hear a case when there has been an intervening decision by the Supreme Court that abandons the precedent on which the court of appeals based its mandate.
In Disciplinary Counsel v. Bricker, the state office charged with prosecuting lawyer misconduct asks the court to impose a stayed license suspension rather than a public reprimand as the appropriate penalty for a Youngstown attorney's failure to keep client funds in his possession in a separate account from the attorney's own funds, as required by the Rules of Professional Conduct.
The five cases to be argued on Tuesday, February 26 include:
Disciplinary Counsel v. Harris, in which a Sandusky attorney who is licensed to practice only in federal courts and the District of Columbia asks the court to reject a disciplinary board recommendation that he be indefinitely suspended  for multiple rule violations, including neglect of several bankruptcy cases and unauthorized practice in a state court.
In Anderson v. Barclays Capital Real Estate Inc., a federal district court has asked the court to determine whether a mortgage servicing company that collects and allocates monthly payments and conducts virtually all other interactions between homeowners and the actual holders of  their mortgages falls within the category of businesses that are subject to liability for unfair business practices under the Ohio Consumer Sales Practices Act.
Vacha v. North Ridgeville raises the legal question of whether an exception to the state's political subdivision immunity statute for disputes between a public employee and employer "that arise out of the employment relationship" applies to a civil lawsuit brought by a city worker based on her sexual assault by a co-worker while both were on duty at a city water treatment facility.
In Countrywide Home Loan Servicing L.P. v. Nichpor, a couple whose home mortgage was foreclosed on appeals lower court rulings that allowed the mortgage holder to unilaterally dismiss its complaint and pursue a new foreclosure action after a court had issued and journalized a decree of foreclosure in the case and the property had been sold at a sheriff's sale.
In Cullen v. State Farm Mutual Insurance Co. an auto insurance company asks the court to reverse a court of appeals ruling that allowed multiple policyholders to pursue their individual claims against the company for  breach of contract and bad faith settlement practices in a single class action lawsuit.