Supreme Court to Determine Whether an Advocacy Group Has Standing to Challenge JobsOhio Act
Among Eight Cases To Be Argued on November 5 and 6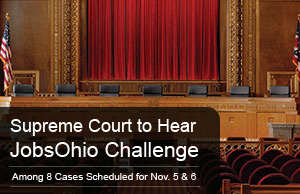 The Chief Justice and Justices of the Ohio Supreme Court will hear arguments in eight cases November 5 and 6.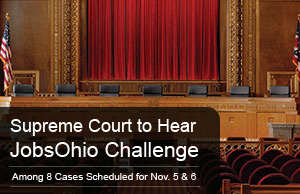 The Chief Justice and Justices of the Ohio Supreme Court will hear arguments in eight cases November 5 and 6.
The Supreme Court of Ohio will consider on Wednesday whether an advocacy group has legal standing to file a lawsuit contesting the constitutionality of the state legislation that created JobsOhio, the nonprofit corporation designed to promote economic development in the state.
The court will hear arguments in this case and seven others on Tuesday, November 5 and Wednesday, November 6, at the Thomas J. Moyer Ohio Judicial Center in Columbus. Oral arguments begin at 9 a.m. each day.
Attorneys for ProgressOhio argue there are several reasons it has a right to take legal action disputing the constitutionality of JobsOhio. Among them, they contend that:
Ohio case law and constitutional provisions, rather than federal precedent, govern the analysis of whether ProgressOhio has standing, and state law supports its lawsuit
R.C. 187.09, which provides for claims to be made against JobsOhio, gives ProgressOhio a statutory right to bring this case
If ProgressOhio has no standing in this case, then certain constitutional restraints on government are effectively nullified
The group has a right to sue under the public interest exception to traditional standing requirements
Attorneys for JobsOhio and the state counter that the Supreme Court may look to federal precedent whenever it determines that is appropriate; the cited statute governs only when and where a lawsuit may be filed against the entity, not who may make a claim; constitutional provisions are not undone if the group cannot sue in this case; and public policy is best served when the court follows precedent and does not expand its judicial power.
The court's Office of Public Information today released summaries of the eight cases. The arguments will be carried live online at sc.ohio.gov and broadcast live on the Ohio Channel.
Cases for Tuesday, November 5
The court also will hear four cases on Tuesday:
In CitiMortgage v. Roznowski, CitiMortgage filed foreclosure proceedings against two Stark County residents. The Supreme Court has agreed to review a conflict between appellate courts in this case. CitiMortgage argues that a foreclosure judgment decree is a final appealable order even if it does not include specific dollar amounts for all the expenses the mortgage company incurs in setting up a foreclosure sale.
A.E.M. Electric Services Corporation v. Transtar Electric centers on language used in a construction contract between a general contractor and its subcontractor on a project. Attorneys for the general contractor contend that the contract is unambiguous and clearly conveys that, until it is paid by the property owner for work, it has no obligation to pay the subcontractor.
In State ex rel. The Cincinnati Enquirer. v. Lyons, the newspaper asks the court to force a Butler County judge to unseal records related to the guilty plea and subsequent dismissal of charges in a case involving a student connected to the posting at Miami University of a flier promoting ways to get away with rape. The paper argues the judge illegally sealed the student's disorderly conduct conviction, then allowed the student to withdraw his guilty plea and improperly sealed that record of the dismissal.
Arnaldo R. Miranda v. State of Ohio involves a Columbus man convicted of engaging in a pattern of corrupt activity and trafficking in marijuana following a task force's seizure of more than 4,000 pounds of the drug. The man's attorneys assert that imposing two convictions with consecutive sentences for these offenses violates the state's allied offenses statute and the constitutional prohibitions against double jeopardy.
Cases for Wednesday, November 6
In addition to JobsOhio, the court will consider three other cases during Wednesday's session:
Douglas J. Wine v. State of Ohio is an appeal from an Auglaize County man originally charged with rape but later convicted of the lesser offense of sexual imposition. His attorneys contend that a criminal defendant in a noncapital case should have the right to present an all-or-nothing defense, in which a jury may acquit or convict on only the charged offense, and should be able to prevent the trial court from giving instructions to the jury on lesser-included offenses.
While driving his car, a man struck and killed a bicyclist in State Auto. Mutual Ins. Co. v. Spaeth. He sought coverage under his parents' insurance policy and claimed he resided at his father's Ohio home, while the insurance company said his father was a Florida resident. In its appeal, the insurance company argues it is not required to cover the claim because the father does not own property in Ohio, he is not employed in Ohio, and he and his wife moved to Florida 20 years ago.
In Lucious Taylor v. State of Ohio, a Summit County man was indicted for a fifth-degree felony for stealing $550 worth of cologne. However, between his indictment and his sentencing, a new theft statute increased the minimum value for stolen property required for a fifth-degree from $500 to $1,000. The Supreme Court determined that a conflict exists between appellate courts on this issue. The man's attorneys assert that the classification and penalty for his crime should be decreased because he meets the criteria for a lesser sentence in the new law.