City to Argue for Local Laws Governing Oil and Gas Drilling
Supreme Court To Hear Seven Appeals on February 25 and 26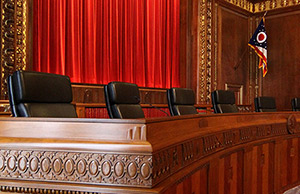 Ohio's justices will consider cases this week about bail, plea agreements, a proposed helipad, and more.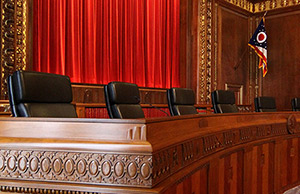 Ohio's justices will consider cases this week about bail, plea agreements, a proposed helipad, and more.
The Supreme Court of Ohio will consider this week whether the state law governing oil and gas drilling prevents cities, counties, and townships from overseeing certain aspects of such drilling.
The northeastern Ohio community of Munroe Falls has several local laws that regulate the location and drilling of oil and gas wells in its city. A resident leased the natural gas drilling rights on part of his property to Beck Energy Corporation. When Beck Energy obtained a permit from the state and began drilling, Munroe Falls filed suit.
The city argues that its zoning ordinance operates in parallel with the state law and allows the city to be certain that wells are placed in appropriate areas – a decision it claims is best left to local officials. In addition, the local laws requiring a certificate, fee, bond, and public hearing protect local interests, educate the public, and ensure safety, they contend. They maintain that the laws do not significantly or substantively hamper drilling operations.
Beck Energy responds that the ordinances conflict with the state law, which gives the state "sole and exclusive authority" over oil and gas drilling across Ohio through a uniform, comprehensive regulatory plan. The state will also participate in oral arguments during part of Beck Energy's allotted time before the court.
The case has drawn friend-of-the-court briefs on both sides from multiple interest groups and businesses.
In this week's oral arguments, the court will hear four cases on Tuesday, February 25, and three cases, including State ex rel. Munroe Falls v. Beck Energy Corporation, on Wednesday, February 26. The court's sessions begin at 9 a.m. each day at the Thomas J. Moyer Ohio Judicial Center in Columbus. The arguments will be streamed live online at sc.ohio.gov and broadcast live on The Ohio Channel.
Along with the brief descriptions below, the Office of Public Information today released summaries of the seven cases.
Cases for Tuesday, February 25
The court will consider four cases on Tuesday:
The issue in State ex rel. Sylvester v. Neal, Wayne County Clerk of Courts and State ex rel. Fox v. Walters, Licking County Clerk of Courts involves courts that set bail and require criminal defendants to pay 10 percent of the amount in cash to be released. In both cases, the courts refused to accept a surety bond for full bail instead of a 10 percent cash payment. The bail bond companies contend that these refusals violate the Ohio Constitution's provision that "all persons shall be bailable by sufficient sureties." (The two cases have been consolidated by the court for oral argument.)
In State v. Gilbert, the court is asked whether a trial court is permitted to cancel a plea agreement that has been violated by a defendant and to reinstate the original charges. The prosecutors assert that a Cincinnati man committed fraud by not upholding his end of a plea, so the state no longer has to meet its part of the agreement. The defendant also waived any double-jeopardy defense as part of the deal, they argue.
A hospital in the Kamm's Corner neighborhood of Cleveland wants to add a helipad to its facilities in Cleveland Clinic Foundation v. Board of Zoning Appeals. The hospital contends that a helipad qualifies as an "accessory use," which is clearly allowed by the city's zoning law. If the law is viewed as ambiguous, however, the hospital maintains that the lack of clarity must be interpreted in its favor as the property owner.
In Heinz v. Burkhart, a widow sought benefits for the death of her husband due to alleged asbestos exposure as a maintenance worker for 40 years at two Ohio Heinz plants. The claims were initially denied, but the appeals court disagreed and determined that a transcript of her husband's video testimony in a previous asbestos lawsuit not involving Heinz should have been considered. The company argues that the interests of the defendants in the earlier lawsuit were not aligned with its interests, so the testimony should have been excluded.
Cases for Wednesday, February 26
In addition to Munroe Falls, the court will hear two other cases during Wednesday's session:
Century Surety Company v. Crews centers on language used in an insurance policy between a paving company and its general liability insurance provider. The company filed a claim after a woman fatally crashed into its flatbed trailer parked on a Grove City road. The insurance company argues that the disputed language clearly was never meant to cover damages resulting from a fatal auto accident, even though the accident involved a trailer that was not attached to a motorized vehicle.
A candidate who ran for judge in 2012 for a northeastern Ohio appeals court objects to the sanctions issued by a five-judge commission in In re: Judicial Campaign Complaint Against O'Toole. The commission found that the candidate misled voters when she did not clearly indicate on her web site and on a name badge that she was not a sitting judge at the time she was seeking office. The commission ordered her to pay a fine, proceeding costs, and attorney fees, totaling about $6,000, which she maintains is excessive and inappropriate given other more egregious cases.