Youngstown Man Appeals Death Sentence for 1985 Murder of Neighbor
Supreme Court To Consider Seven Cases on March 11 and 12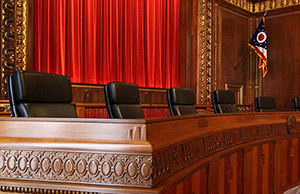 Cases involving a Beachwood apartment fire, murders in Cincinnati and Youngstown, and an ex-Marine with PTSD are on the court's agenda this week.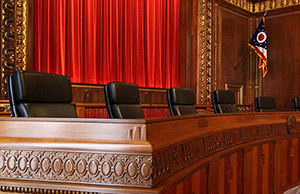 Cases involving a Beachwood apartment fire, murders in Cincinnati and Youngstown, and an ex-Marine with PTSD are on the court's agenda this week.
The Ohio Supreme Court will hear arguments Tuesday in the death penalty appeal of a Youngstown man convicted in 2007 of murdering a local college student who was his neighbor.
The case, State v. Adams, will be the first of three cases considered by the court on March 11. The justices will hear four more cases on Wednesday, March 12. The court's Office of Public Information today released summaries of the seven cases.
On December 30, 1985, the body of Gina Tenney was found in the Mahoning River. When officers went to her apartment to investigate, they could not get in. They asked Bennie Adams, Tenney's downstairs neighbor, to use his phone to call the building's landlord. While in Adams's apartment, the police discovered Tenney's bank card and later found more of Tenney's belongings in his home.
Adams was charged with receiving stolen property, but was not indicted for Tenney's murder until 22 years later, in 2007. A jury found him guilty of aggravated murder, and he was sentenced to death.
In his appeal to the Supreme Court, Adams's attorneys assert that 21 errors were made at his trial, and those are grounds for the court to overturn Adams's conviction and death sentence or to give him a new trial.
His attorneys argue that police illegally searched Adams's apartment because he did not consent to a search when police asked to use his phone. The attorneys also contend that the state presented no new evidence in 2007, so the decades of delay before indicting Adams was unreasonable, unjust, and violated his right to a fair trial. After 18 years in prison for another crime, Adams had become a good and productive citizen, they maintain, and his rehabilitation should have lessened his punishment for this crime. They also claim that the trial judge "bullied" potential jurors during questioning, and the verdict form did not properly address which underlying felony Adams was guilty of. Adams could receive the death penalty only if the jury unanimously found him guilty beyond a reasonable doubt of one of the underlying crimes, they reason.
The court's sessions begin at 9 a.m. each day at the Thomas J. Moyer Ohio Judicial Center in Columbus. The arguments will be streamed live online at sc.ohio.gov and broadcast live on The Ohio Channel.
Cases for Tuesday, March 11
In addition to Adams, the court will hear two other cases during Tuesday's session:
An 18-year-old was shot during a Cincinnati drug deal gone wrong in State v. Harris. The state contends that the testimony at trial from a psychologist about the defendant allegedly feigning mental illness was permissible because it described the defendant's psychological state, not evidence of any guilt in the crime.
In Village Green of Beachwood v. Sivit, an investigator concluded that the fire that burned down a 32-unit Beachwood apartment building in 2007 was caused by a dangerous mixture of water leaks and faulty wiring. Tenants sued and won nearly $600,000 for lost property, $2 million in punitive damages, and $1 million in attorney fees. While the case involves an alleged breach of a landlord-tenant contract, the developer/owner and the property management company argue that the lawsuit is also a tort (a civil action for damages for injury or loss to person or property), so the tort law's limit on punitive damages applies in this case. They also claim that they did not know about electrical problems in the building, and the source of the fire was hidden from possible inspection.
Cases for Wednesday, March 12
The court will consider four cases on Wednesday:
In the Matter of the Fuel Adjustment Clauses for Columbus Southern Power Company and Ohio Power Company involves fuel adjustment clauses, which allow electric companies to adjust rates to recover higher-than-anticipated costs for fuel. The companies assert that Ohio's public utilities commission unlawfully ordered that $300 million, which the companies were entitled to recover for 2009 fuel costs, had to be reduced by tens of millions of dollars the companies gained from a buyout settlement with a coal supplier in 2008. They maintain this reduction is retroactive rate-making, which has been barred by the Ohio Supreme Court.
The case In re D.M. involves a minor accused of robbery. His attorneys argue that the state did not give them all documents, including two police reports, before a hearing that would determine whether he would be tried as an adult. They contend that rules for juvenile proceedings require that any evidence favorable to the minor, or related to guilt or punishment, must be provided to the defense as part of discovery.
In Belew v. State, a former Marine who served in Iraq was sentenced to 27 years in prison after he shot multiple times at two Oregon police officers responding to a call about a fight. A psychological evaluation found that the Lucas County man, who had been discharged for bad conduct from the military, suffered from depression, post-traumatic stress disorder, and alcohol dependence. He asserts that his sentence was excessive and did not fully take into account his service-related mental disorders as mitigating factors.
Police approached an Akron Municipal Court judge and a public defender parked late at night at a shopping center after a party, and officers soon arrested the public defender. In Disciplinary Counsel v. Judge Oldfield, the state's disciplinary board has recommended a public reprimand of the judge because she did not disqualify herself from cases the public defender was working on after the arrest, but the board dismissed a charge that she tried to use her judicial office or title to prevent the public defender's arrest. The office that prosecutes disciplinary cases against judges and lawyers objects to the dismissal of this charge, arguing that the judge repeatedly reminded police of her position – a violation of judicial conduct rules.