Court of Claims: Broken Basketball Seat Lawsuit Blocked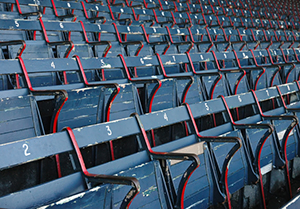 A man alleged he was injured at a University of Akron men's basketball game when a seat collapsed.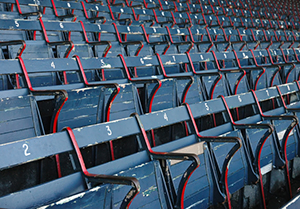 A man alleged he was injured at a University of Akron men's basketball game when a seat collapsed.
Raymond Williams v. University of Akron, Case No. 2016-00199 AD
The Ohio Court of Claims rejected a $10,000 claim from a man who said he was injured at a University of Akron basketball game when a seat he was attempting to sit in broke and dropped to the ground.
The court recently ruled that Raymond Williams of Akron didn't prove that the university failed to exercise ordinary or reasonable care, or that his alleged injuries were caused by a problem with the seat that the university would have found by exercising ordinary care.
Game Attendee Presents $5,000 in Medical Bills
On Nov. 16, 2015, Williams attended a men's basketball game at the James A. Rhodes Arena on the University of Akron campus. Williams stated in his civil lawsuit that as he sat in a chair at the game, the seat bottom broke underneath of him, causing injuries to his lower back, right hip, and right knee.
He submitted medical bills and records to the court, indicating he wasn't insured and had paid $5,265 for treatment. The doctor's records state that Williams said he had fallen onto the ground when the seat bottom collapsed. He asked for $10,000 to cover his medical expenses and for pain and suffering.
In its investigation report, the university stated that an usher and a supervisor responded when the chair broke. They said Williams told them he hadn't fallen when the seat bottom dropped to the floor because he caught himself on the armrests. When asked by the staff, he declined medical treatment or an ambulance. The supervisor completed an incident report, which noted that Williams had a ticket for bleacher seating, but the broken seat was in the reserved ticket section.
University Had No Notice of Trouble with Seat
The university explained that it hires an outside company to regularly inspect athletic venues, and the June 2015 inspection of the arena showed no problems with the seat Williams tried to sit in. University athletic staff also check seating areas visually before events, and attendees often notify staff about any seats that need repair. No one had reported a problem with the seat in question, the university stated.
The court noted that for Williams to establish negligence, he had to prove that the university owed him a duty, that it breached that duty, and the breach led to his injuries. Williams failed to prove these elements, the court concluded in denying his claim.
Court of Claims Handles Claims Against State
The Court of Claims is given original jurisdiction to hear and determine all civil actions filed against the state, which includes state colleges and universities.
To access information on other cases, visit the Court of Claims website.
Please note: Opinion summaries are prepared by the Office of Public Information for the general public and news media. Opinion summaries are not prepared for every opinion, but only for noteworthy cases. Opinion summaries are not to be considered as official headnotes or syllabi of court opinions. The full text of this and other court opinions are available online.