Obergefell at One Year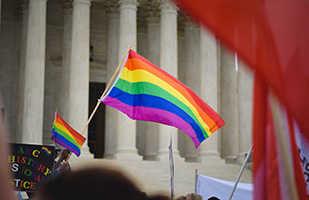 Many of the state's probate courts planned ahead so they were ready if procedures and documents needed to be changed when the U.S. Supreme Court ruled in Obergefell v. Hodges.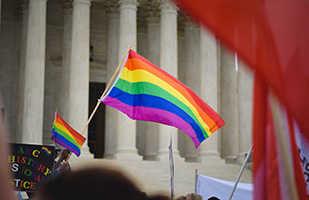 Many of the state's probate courts planned ahead so they were ready if procedures and documents needed to be changed when the U.S. Supreme Court ruled in Obergefell v. Hodges.
The U.S. Supreme Court released a momentous ruling on June 26 last year ensuring the rights of same-sex couples to marry across the country. Reporters from television stations, newspapers, and web sites rushed to cover the first nuptial ceremonies of same-sex couples in states, such as Ohio, where gay marriage had been illegal but no longer was. Then the state's courts braced for an anticipated spike in requests for marriages licenses. And not much happened, court officials report.
While the social significance of Obergefell v. Hodges is unmistakable and the topic of much conversation, the effect on the day-to-day operations of the state's probates courts has been minimal. Many court officials said they had reviewed their marriage-related documents and planned ahead should the ruling go the way it did. The Ohio Association of Probate Judges had discussed strategies for addressing any needed changes at a meeting held before the 2015 decision was released.
Lisa Zeno Carano, court administrator for the Summit County Probate Court, said the transition went smoothly and there were no difficulties. Because officials knew a decision in the case was imminent, a few key staff met earlier in the year to discuss what they might need to do. The court had to update a few forms, remove language like "bride" and "groom" from the online and hard-copy applications for a marriage license, and make minor edits to the web site.
"There was zero impact on the court's operations," Zeno Carano said. "The sky didn't fall." 
The first same-sex couple who came into the court that day for a marriage license and to get married had been together for 35 years, Zeno Carano said. That may have been the most memorable part of her day. Since then, same-sex couples have come to the court for marriage licenses, but over the past year Summit County's number of licenses issued has remained about the same, she noted.
Preparation Paid Off Across State
Lucas County also took preemptive steps to ready itself for a ruling. Staff checked with other states where same-sex marriage was already legal to see what changes had been implemented. Then they consulted with their case management vendor, which took steps preparing to update the court's index, a database of marriage licenses granted in the county.
"A blind man could see that a decision allowing same-sex marriage was going to happen, either in this case or a later one" said Charles Shaffer, the probate court's administrator. "We were going to change things anyway."
Shaffer said 14 same-sex couples showed up on June 26 for licenses. Overall, though, the number of licenses authorized by the court in the last year hasn't dramatically changed. The county approved 4,100 licenses in 2015, and 170 of those were to same-sex couples in the last half of the year, according to Shaffer's review of the statistics.
Like many probate judges in the state, Lucas County Judge Jack Puffenberger only occasionally conducts weddings, so the county has ministers available at the courthouse to handle the high volume of out-of-state residents, mostly from Michigan, who request marriage licenses and must then wed in the county as required by Ohio law. After Obergefell, the court ensured that the ministers on site would perform both opposite-sex and same-sex marriages.
There was zero impact on the court's operations. The sky didn't fall."
- Lisa Zeno Carano
Summit County Probate Court
There was zero impact on the court's operations. The sky didn't fall."
- Lisa Zeno Carano
Summit County Probate Court
Judge David Hejmanowski of the Delaware County Probate Court said the staff there did advance planning as well, issued the county's first same-sex marriage licenses by 2 p.m. that day, and later granted a license to a same-sex couple who'd been in a committed relationship for 45 years.
Greene County Judge Thomas O'Diam stated that his court chose to make its application for marriage licenses gender neutral several months before the Obergefell ruling.
"If the decision had come down the opposite way, our modified form would still work and we would not have had to make any changes," Judge O'Diam said.
Probate court officials in Clark, Fairfield, and Meigs counties shared similar accounts of trouble-free operational transitions. They all remarked that additional staffing was unnecessary and technology updates were simple.
In Guernsey County, the local court system was criticized in the media because no judges were performing any civil weddings by the time Obergefell was decided. Since then, though, Judge David Bennett in the probate court has agreed to officiate over ceremonies by appointment.
Issues on the Horizon
A more turbulent ride may be yet to come in the legislative arena. There's the statute defining who can marry in the state, based on a pre-Obergefell state constitutional amendment banning gay marriage. And while gender-neutral language was formally incorporated into state law beginning in the mid-1990s, lawyers working in these areas have pointed out that statutes governing parenting, adoptions, custody, and divorce have retained words such as "husband," "wife," "father," and "mother." Even a seemingly neutral word like "parent" is strictly defined in the Revised Code.
The Ohio State Bar Association has formed a subcommittee to review the laws and make recommendations to the Ohio General Assembly about amendments that may be needed to conform with the U.S. Supreme Court's ruling. Judge Hejmanowski said opinions vary about the best way to propose any legislative changes, such as in an omnibus bill or through more narrow legislation.
But as far as issuing marriage licenses around the state, probate court officials have described a straightforward and easy evolution.
"Just fine" was how Erin McCabe, deputy clerk in Meigs County, described her court's adjustment to Obergefell. "We adapt to new laws all the time," she added.
Ultimately, for whatever effort it took by the state's courts, Zeno Carano explained, "We're here to assist and here to serve the public."