Opiate Conference Attendees Hear About Ohio Courts' Efforts to Combat Epidemic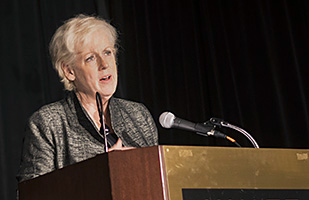 Ohio Supreme Court Chief Justice O'Connor was a featured speaker at the 2016 Opiate Conference in Columbus.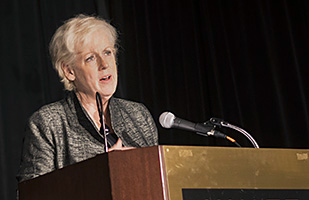 Ohio Supreme Court Chief Justice O'Connor was a featured speaker at the 2016 Opiate Conference in Columbus.
The role of Ohio courts in the battle against Ohio's opiate epidemic was in the spotlight today as Ohio Supreme Court Chief Justice Maureen O'Connor spoke to attendees of the seventh annual opiate conference in Columbus.
Chief Justice O'Connor talked about the multi-jurisdictional efforts that are underway, including the medication-assisted treatment program that began receiving funding in January 2014 among Ohio courts, the Ohio Department of Mental Health and Addiction Services (OhioMHAS), and local Alcohol and Drug Addiction Service Boards. The approach being used by drug courts in the 15 counties participating in the program, including medication, counseling, and therapy, is showing promising results, according to Chief Justice O'Connor.
"After six months in the program, participants showed a significant decrease in heroin use and criminal justice involvement, a significant increase in stable housing situations, and twice as many were employed. Taken as a whole, these improvements indicate that the program is demonstrating positive effects across a wide range of client problems and issues," Chief Justice O'Connor said.
The Supreme Court, the OhioMHAS, and the Ohio Department of Job and Family Services are also collaborating on a study to find out why parents in the child welfare system with addiction issues are not participating in family dependency treatment courts or successfully completing treatment programs.
"We must provide Ohioans battling addiction with a fighting chance at sustained recovery. It is not just in their interest. It is in the interest of their families, their communities, and our state," she added.
Ohio's 2016 Opiate Conference: Advancing Prevention, Intervention, Treatment, and Recovery is hosted by the Ohio Association of County Behavioral Health Authorities, in partnership with the OhioMHAS and the Ohio Department of Rehabilitation and Correction. The two-day conference will bring together professionals, including judges and attorneys, from across Ohio to learn about Ohio's opiate epidemic and to continue developing local ideas and solutions.