Teachers Experience Ohio Government in Action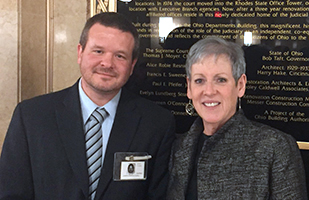 Pictured from left: Tolles Career and Technical Center teacher Joe Cahill and Ohio Supreme Court Chief Justice Maureen O'Connor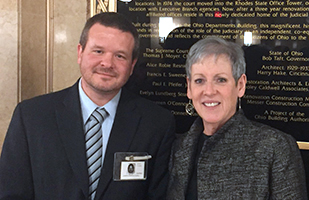 Pictured from left: Tolles Career and Technical Center teacher Joe Cahill and Ohio Supreme Court Chief Justice Maureen O'Connor
Teachers from around the state convened in the state capital on Feb. 8-9 to take part in a two-day conference for an inside view of Ohio's three branches of government.
Ohio Government in Action, a program of the Ohio Center for Law-Related Education (OCLRE), provides teachers the opportunity to meet with leaders and learn about Ohio's judicial, legislative, and executive branches and to share ideas and develop lessons to help their students better understand state government.
Among the highlights, participants observed oral arguments before the Ohio Supreme Court; had lunch with the Justices, which included remarks by Chief Justice Maureen O'Connor; took part in special tours of the Court and the Ohio Statehouse; met with members of the Ohio General Assembly; and observed the swearing-in ceremony of Justice R. Patrick DeWine.
OCLRE is a non-profit, nonpartisan organization whose mission is to improve society by developing citizens empowered with an understanding of our democratic system. OCLRE is sponsored by the Supreme Court, the Ohio Attorney General's Office, the Ohio State Bar Association, and the American Civil Liberties Union of Ohio Foundation. OCLRE programs are funded, in part, by a grant from the Ohio State Bar Foundation. For more information, go to www.oclre.org.