Legal Ease
Erin Waltz relishes how her job as a librarian and public services manager at the Ohio Supreme Court is different every day.
"It's never the same question," Waltz said. "Being a librarian, you get so much variety."
Her voice percolates with enthusiasm, for example, about putting together a comparison of Australian and U.S. legal systems earlier this year for the chief justice. The Supreme Court's librarians love a novel and challenging request.
Talented staff inhabit legal libraries statewide that are specifically dedicated to the needs of the bench, bar, and public. Their curiosity and persistence – and that of librarians serving in more than 100,000 libraries throughout the country – are acknowledged and honored during National Library Week each April.
Researchers Extraordinaire
At the Ohio Supreme Court Law Library, the staff focuses, not surprisingly, on research for the justices, including digging up the history of legislation or an earlier version of a statute as background for the cases the Court considers. Lesser known, Waltz said, is the work the library is willing and able to do for judges and courts throughout Ohio.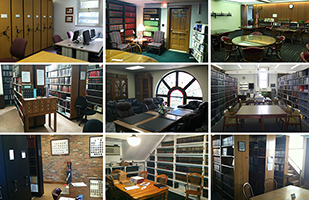 Ohio's county law libraries are diverse (from top, left to right): Champaign, Fairfield, and Franklin counties; Gallia, Hancock and Jefferson counties; Madison, Morgan, and Williams counties. (Photos courtesy of: Statewide Consortium of Ohio County Law Libraries.)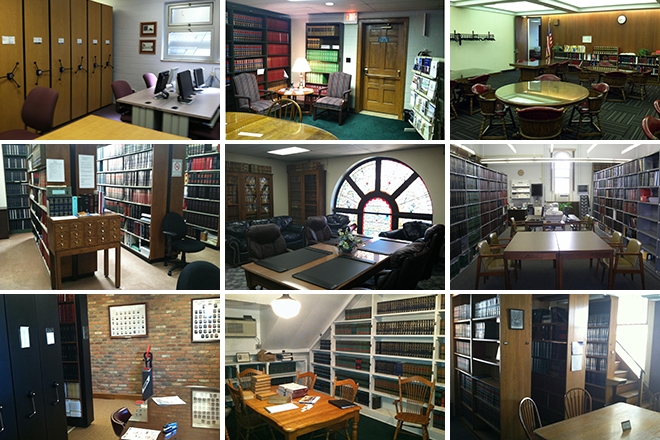 Ohio's county law libraries are diverse (from top, left to right): Champaign, Fairfield, and Franklin counties; Gallia, Hancock and Jefferson counties; Madison, Morgan, and Williams counties. (Photos courtesy of: Statewide Consortium of Ohio County Law Libraries.)
Among the projects the Court library has taken on: collecting bond schedules from every municipal court in the state; compiling information about each judge who served on one court throughout its history; and assembling data for a statewide task force about in-court and out-of-court hourly fees charged for appointed counsel.
"We will dive deeply for them," she said, yet many judges don't realize the extent of services available.
Awareness is growing, though. Last year, the Court's library staff completed its own version of a 5K, fulfilling more than 5,000 in-depth research requests. They also answered 1,853 questions for judges and court employees in Ohio – a ninefold increase over 2014 when they responded to 202 questions. Waltz enjoys the opportunity to share the possibilities when she speaks at conferences or talks to judges.
"I tell them, 'We can save you so much time and energy,'" she said.
Delving into the Law
County law libraries provide another valuable resource for the legal profession. The Hamilton County Law Library responds to many requests from solo and small firm lawyers, said Lauren Morrison, the library's director. Most practice in the municipal or common pleas courts, which are housed in the same building as the library. Morrison said their primary request is for sample legal documents, including complaints, answers, leases, and trusts.
"The forms provide a good starting point so lawyers aren't reinventing the wheel," she said.
Lawyers also frequently ask for treatises covering specific fields of law, court decisions, and statutes that include annotations of relevant history and case law. Hamilton County offers these services as part of an annual subscription, which includes access to the library's print and electronic collections, continuing legal education seminars, and video conferencing, among other benefits.
At the Delaware County Law Library, chief administrator and librarian Judith Maxwell said lawyers typically want law review articles or legal handbooks on topics such as juvenile law, basic evidence, or operating a vehicle while under the influence.
Maxwell and Morrison are both attorneys. Morrison, who is on inactive status, noted that she had good research skills as a lawyer, but her research chops are much better now as a librarian.
"Librarians play an important role as search experts because we have a full grasp of the resources available," she explained.
Law library staffs often notice legal trends as they develop, too. Long before appeals wound their way to the Supreme Court, Waltz said they saw inquiries about the state's Dormant Mineral Act escalate as natural gas drilling disputes began to crowd the dockets of eastern Ohio trial courts.
I think the health of our civilization, the depth of our awareness about the underpinnings of our culture, and our concern for the future can all be tested by how well we support our libraries."
- Carl Sagan
I think the health of our civilization, the depth of our awareness about the underpinnings of our culture, and our concern for the future can all be tested by how well we support our libraries."
- Carl Sagan
Guiding the Public
Law librarians also devote significant time to serving the public. It's a central and essential mission for the libraries, not only as a basic civic duty but in support of access to justice efforts throughout the courts.
Maxwell finds herself frequently assisting people trying to handle a domestic relations issue or charged with a crime. Without providing any legal advice, she may direct them to the Ohio Revised Code, Ohio Administrative Code, or Ohio Jurisprudence. She has pointed out that certain crimes come with possible jail time and referred patrons to legal clinics or lawyer locator services.
"A lot of what I do is triage," Maxwell noted.
Popular areas of interest for non-lawyers contacting the Hamilton County Law Library involve search and seizure rights, custody issues, and landlord/tenant law, Morrison said.
"We can guide people to potentially helpful resources," she said. Her staff helps the public navigate various online databases, look up citations and cases, and find overviews describing the law on a specific topic. Several times each year, the library also presents education events on legal issues for the public.
Waltz said the most frequent requests at the Supreme Court are for forms, especially in the probate and domestic relations areas, and for help fixing legal problems. Although they can't give legal advice, the Supreme Court's librarians spend considerable time educating patrons about how the state and federal court systems work, she said. The staff members do what they can to ensure the public's access to the library's extensive resources. Besides in-person assistance, the staff will email information, mail it to a physical address, or deliver it to any public library for the patron to pick up locally.
"Regardless of who you are, we're here to help you," Waltz explained.
Disparate Funding
State law mandates that county law libraries supply research and reference services to county, municipal, and township officials and to the courts. Because the libraries are funded by court, traffic, and liquor fines and penalties, resources fluctuate widely from county to county and from year to year. In 2015, the statutory revenue generated to operate the state's 88 county libraries ranged from $28,000 to $1.16 million for the year, with the median hovering near $139,000, according to a survey of the county law libraries.
Some law libraries, like Hamilton County's, have a handful of staff, while others can afford only a part-timer, as in Delaware. Maxwell, who also serves as executive director of the Consortium of Ohio County Law Libraries, said she knows of law libraries that consist only of a few shelves in a judge's chambers. The Delaware law library is located in an old but ornate house that was once the sheriff's residence connected in the back to the local jail. The Hamilton County Law Library, established in 1834, has resided for the last century in the Hamilton County Courthouse in downtown Cincinnati. Hours vary, too. Certain county law libraries open their doors only a few days each week and have limited hours, while others operate during business hours on weekdays.
The statewide consortium strives to fill in the gaps so each library can adequately serve its patrons, Maxwell said. For law libraries that are lean on funds, the consortium has purchased materials, such as Ohio Jury Instructions and legal handbooks. Maxwell turns to the consortium to obtain law review articles and access to pricy online databases for her patrons. The libraries also share and swap materials, she said.
"Even for a county with only a few thousand dollars a year from fees, the consortium can still help locate information that wouldn't otherwise be available," she said.
Not Without Levity
Despite any struggles, the librarians seem fueled by notably high spirits and a commitment to sharing knowledge. They're far from the staid and serious stereotype associated with their profession.
When bats descended some time ago from the library's tower, Maxwell regularly carried a catcher's mitt and a cardboard box to the office to capture the pesky creatures. A constant companion in her library is "Flexible Fred," a plastic skeleton that's used in trials at the nearby courthouse. Attorneys dress up Fred and place him in the library's windows. In March, he donned a green fedora for St. Patrick's Day. Last year, it was Cleveland Indians' garb.
The Supreme Court's librarians are renowned, at least among those in the building, for their clever arrangements of the abundant books at their disposal. They annually build a green book tree for the Christmas holidays and create colorful book displays each month to commemorate events such as Constitution Day and Ohio's statehood.
Morrison's team in Cincinnati likes to adorn the busts of historical figures that sit in the library's main room. During Mardi Gras, masks appeared on statues of former Ohio governors Edward Follansbee Noyes and Salmon P. Chase (who also served as chief justice of the United States). The staff shares these playful moments on the library's humorous and informative Twitter, Facebook, and Instagram feeds.
"We're not so straight-laced and stoic that we can't have a little fun," Morrison noted.
The librarians hope these lighthearted efforts draw people in to raise awareness of the vast and treasured resources waiting to enlighten and inform their patrons.
"We try to serve as many people as we can the best we can," Morrison said.

PDF files may be viewed, printed, and searched using the free
Acrobat
®
Reader
Acrobat Reader is a trademark of Adobe Systems Incorporated.