Supreme Court Helping Military Spouses Practice Law in Ohio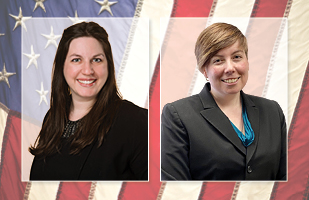 Attorneys Marcie Sherman (left) and Kristie Gotwald (right) utilized the Court's military spouse exemption to practice law in Ohio when their husbands were assigned here from other states.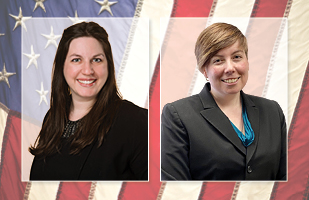 Attorneys Marcie Sherman (left) and Kristie Gotwald (right) utilized the Court's military spouse exemption to practice law in Ohio when their husbands were assigned here from other states.
Lawyers married to members of the military face different challenges when following their spouse on assignments. A main concern is being licensed when moving to a new state.
The Supreme Court of Ohio is making it easier, allowing spouses of active military personnel to practice in Ohio while the couple is stationed in the state.
"This was the easiest transition for me because I didn't have to take the bar exam," said Marcie Sherman, an attorney with a military spouse exemption who works for the Montgomery County Public Defender's Office.
Sherman received her first license in Colorado. Two years later, the Air Force transferred her husband to Nevada, which didn't have an exemption for attorneys married to active service members. So, she had to take the Nevada bar exam to be licensed there, while juggling a young child and jobs she could do without a license – teaching and contract work. In the end, it took four years before she could practice in Nevada. Sometimes the military spouse is stationed for less time than it takes to get a license and they may never be able to fully contribute to the support of the family.
"I had no idea how much work it would take to get me relicensed in every state," said Sherman. She has been practicing in Ohio since 2019.
The process for a military spouse to be temporarily admitted in Ohio is like the application process for the Ohio Bar Examination – without having to take the test. Out-of-state attorneys submit documents that confirm legal credentials, undergo a background check and character review, and that they are married to someone on active duty in Ohio.
It's an option Dayton-area criminal defense attorney Kristie Gotwald wishes was available when she and her husband, also in the Air Force, moved from Oklahoma to her native New York in 2013.
"I was part of a military spouse group in Oklahoma," said Gotwald. "A lot of the people were concerned about going to law school because of the licensing concerns from state to state."
She ultimately took the New York bar exam and received her law license months before that state passed its military spouse exemption. By the time Gotwald, her spouse, and their children were restationed to Ohio in 2018, Ohio's military spouse rule was in effect here. The application and approval process, which can take as little as three months, allowed her to start work as an Ohio attorney as soon as she got settled.
Gotwald and Sherman say they feel at home in Ohio. Gotwald passed the Ohio Bar Exam two years ago after her husband transitioned into the military reserves. Sherman's situation depends on her husband. If he remains on active duty in Ohio through next October, she can be admitted to the Ohio bar without an exam. A Supreme Court rule allows attorneys to bypass the exam if they've practiced full-time in five of the last 10 years.
Both women are appreciative of the military and legal communities for allowing them to pursue their careers and help support their families. And they plan to stay involved with the lawyers who share their unique circumstances and make the process easier for others moving here.
"I want to help attorneys in my situation transition as smoothly as possible," said Gotwald. "So, they can focus on what they love doing professionally and helping others."
If you or someone you know is a trailing spouse to an active-duty U.S. military member, you can find more information about military spouse attorney admission on the Supreme Court's website or email the Office of Bar Admissions.