Giving Back
Throughout the country, a staggering number of individuals have legal problems but can't afford to hire an attorney. They struggle with housing, employment, and family issues, among others. During this month's national celebration of pro bono, read how Ohio lawyers have stepped in to shepherd many people through difficult or confusing moments, free of charge, to ensure those without means have access to justice.
Winds whipped up to 170 mph when 13 tornadoes tore through the Dayton area in May. Roofs were lifted from their homes and businesses. Walls crumbled. Trees were strewn across yards and roads. When the ferocious winds calmed, residents of Brookville, Dayton, Riverside, Trotwood, and surrounding areas took stock.
In the wake of it all, people rallied to assist family, friends, neighbors, coworkers, and strangers. As first responders and local officials dealt with immediate necessities, such as medical care, shelter, and water, Kelly Henrici was one of those who jumped in to identify other essentials to help residents over time.
Henrici, executive director of the Greater Dayton Volunteer Lawyers Project, and her team met with counterparts at Legal Aid of Western Ohio and Advocates for Basic Legal Equality (ABLE) the day after the Memorial Day tornadoes to brainstorm about how lawyers could help the community.
After a quickly assembled, multiday gathering where immediate housing issues were handled, the legal groups organized another event within three weeks to tackle a primary legal need – replacing critical legal documents. Birth certificates, Social Security cards, marriage licenses, divorce decrees, property deeds, driver's licenses, auto titles, and court paperwork were reproduced at no charge. The 10-hour, "one-stop, replace-all" clinic served 115 people that day.
In addition to partnerships with local, county, and state agencies, the efforts had the assistance of 25 lawyers at the first event and more than 20 lawyers at the document replacement clinic – all of whom worked pro bono.
"I've never had faster email responses from attorneys willing to help," said Henrici, who referenced the #DaytonStrong Twitter hashtag that's become symbolic of the community's solidarity during difficult times. "Usually pro bono is woven into lawyers' busy schedules. Here they said, 'I need to do my share now.'"
The attorneys did initial reviews assessing what individuals still had and what they needed. Attorneys guided each person to the workstation of the organization that could replace the document. Sometimes, Henrici said, the attorneys just listened.
Demand for Lawyers Substantial for Ordinary Occurrences
It's not unusual to witness displays of sincere compassion and astounding contributions when tragedy strikes. At first glance, everyday concerns, such as evictions, foreclosures, employment, divorce, child custody, health care, and immigrant status – many of which are handled in the courts – may seem to pale in comparison to the urgency following catastrophic incidents.
"But these are life-changing legal problems," said Angela Lloyd, executive director of the Ohio Access to Justice Foundation (OAJF), formerly the Ohio Legal Assistance Foundation.
An eviction after someone loses a job can snowball into being unable to secure future housing. Taking the next step as an immigrant can open doors to better jobs. A woman who finds safe shelter away from an abusive spouse moves forward toward building a more stable life for herself and her children.
Legal aid organizations are instrumental in helping low-income individuals with these and other legal issues. But their paid staffs are small, and the public's need is large.
In low-income households ($21,137 per year for a two-person family, and $32,187 annually for a family of four), 71 percent had one legal problem that was civil, not criminal, in the prior year, and one in four of those had six or more civil legal issues, according to a national study in 2017. Ohio has 2.1 million low-income households, meaning 1.49 million households will have at least one legal issue in a civil matter each year.
With 281 attorneys employed by Ohio legal aid organizations, that amounts to one legal aid attorney for every 5,302 low-income households that need legal guidance – the equivalent of one attorney for all employees of Ohio University.
"There's a profound need that can't be met by the paid staff of legal aid," said lawyer Molly Crabtree. "They play a vital role, identifying needs and finding attorneys who can assist. Attorneys working pro bono take a little off their plates."
Assisting Those in Dire Circumstances
Crabtree, a partner at Porter Wright in Columbus, represents companies on antitrust, trade secret, and environmental issues. Her time volunteering her legal skills goes to the Tenant Advocacy Project (TAP) at Franklin County Municipal Court, evening brief-advice clinics, and occasional appointments to federal civil cases.
TAP is a daily clinic run by the Legal Aid Society of Columbus. Crabtree said Porter Wright sends two attorneys twice a month to the clinic, and most large law firms in the city send attorneys on a designated day each month to help with evictions, which have escalated in the county.
Recently at TAP, Crabtree talked with a man who fell into financial difficulties when his roommate moved out while he was recovering from two gunshot wounds and was unable to work consistently. After he didn't pay rent, the man received an eviction notice just as he found out his girlfriend was pregnant.
The legal aid team matched him with Crabtree. She said they "huddled in a corner" amid the chaos of housing court. Learning that the man was willing to leave his rental, Crabtree was able to initiate a dialogue with the landlord, who had an attorney. Their discussions led to a manageable move-out date and prevented the eviction from going on his record. All in one morning. Without that record, the man, who has a job, would likely find another place to live without difficulty.
"Doing pro bono, I feel like I have a real impact on their lives," Crabtree said. "I've never met a client who wasn't thankful to have help."
Addressing Opioids, Helping Immigrants, Reaching out to Rural Communities
Among areas of increasing legal concern is the opioid crisis. The Columbus legal aid society received a 2019 grant through the Ohio Supreme Court's Civil Justice Program to offer telephone and video outreach to rural areas. Lawyers will advise the growing number of grandparents and other family members seeking custody of children affected by the crisis, notes Crabtree, who recently served as the legal aid group's chair.
Based on her experience, she sees the biggest needs for legal assistance in Ohio's non-metropolitan areas and in immigrant communities.
Cheri Budzynski decided to dive into immigration cases after the 2016 election. Budzynski, a partner at Shumaker, Loop & Kendrick in Toledo where she advises businesses on environmental compliance, had donated money for legal aid for a long time. But in 2016 she decided to contribute in a more personal way. She reached out to nonprofit law firm ABLE in her area.
Her first pro bono case through ABLE was a young, English-speaking woman from Kenya who was abused by her husband. The woman wanted to obtain a green card, which would make her a permanent U.S. resident and would allow her to seek employment without federal authorization. Budzynski began working with her in 2017 to submit a petition under the Violence Against Women Act so the woman could seek a green card without notifying her husband.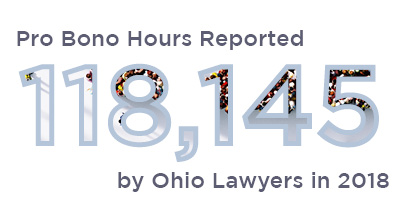 The petition was granted in August 2018, the woman's divorce was final a few months ago, and she received her green card in September, Budzynski said. Today, the attorney is handling two other pro bono cases involving two more women who've suffered physical violence – one from Morocco and one from Mexico who's been in the United States since she was 5 years old. Given the federal government's backlog, Budzynski estimates the Moroccan woman's case will take about four years to get through the system, with her ongoing assistance.
"The processing time can get you down on some of these cases," she said. "It takes time, but it gets easier to do. In immigration, it's literally following directions. You can learn."
She said assisting with this "clear need" is deeply gratifying.
"Despite their terrible circumstances, you're giving them hope," she said. "You know you're helping."
Guidance Plentiful to Gain Knowledge of Unfamiliar Subjects
Lloyd explains that when lawyers are reticent to do pro bono work, it's rarely about time. More often they feel a lack of expertise in the areas where help is needed. However, she notes, most legal aid groups – which coordinate the vast majority of Ohio's pro bono assistance – have pro bono coordinators. They prepare volunteer attorneys by screening clients, prepping files, providing computer access, offering training, and giving support along the way, she said.
"Pro bono gives you another skill set," Budzynski notes. "Even though it can be outside your comfort zone, it's really satisfying."
William Dowling, a mediator and of counsel at Buckingham Doolittle & Burroughs in Akron, agrees. In his pro bono time, Dowling represents detained immigrants asking for asylum and helps people get their drivers' licenses reinstated.
"Don't be intimidated by the fact that it's a new area of law or that you lack experience," Dowling said. "There are great resources to help you."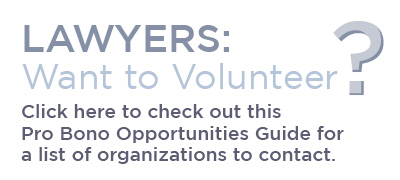 As one of the myriad ways the Ohio Supreme Court fosters pro bono, the Court's Lawyer to Lawyer Mentoring Program encourages mentoring participants to volunteer their time. To make taking that step a little easier, "Give Back for Justice" events are organized locally for mentors and new lawyers to connect with pro bono providers in their community. New lawyers who partner with their mentor on a pro bono project help those in need while developing legal skills and building confidence in their abilities. This month, Give Back for Justice events will be held in Akron, Columbus, and Cleveland.
Foundation Drives New Initiatives to Serve More
Asked the type of cases with the most need, Lloyd points to divorce and custody matters. Complicated specialties – such as foreclosures and immigration – also are challenging when it comes to finding enough lawyers to assist, she said.
But OAJF – along with local legal aid groups, bar associations, and courts – keep chipping away at the broader problem of providing legal guidance to those struggling with civil legal issues. This year alone, the foundation launched the "Ohio Justice Bus" and a website called "Ohio Legal Help."
The Ohio Justice Bus is a mobile legal aid office. The bus delivers pro bono legal guidance directly to people in underserved areas, which includes rural locations as well as other areas where legal help is needed. In late September, the bus visited Youngstown, Newbury, and Kent. The legal aid groups in these areas identified a focus, based on the public's need, for each visit, said Sophia Chang, the foundation's pro bono director. In Youngstown and Kent, the lawyer-volunteers offered direction on sealing and expungement of criminal records. The Newbury stop was a general brief-advice clinic. Chang said they received questions about everything from dog bites to wills.
By dovetailing the bus stops with local meetings held by the Ohio State Bar Association, the initiative is tapping lawyers who already are gathered for the meeting and even is offering training, plus continuing legal education (CLE) credit, for the pro bono clinic. The first week of stops drew several local attorneys in each location, who each gave a few hours of their time to help residents.
Attorneys in Ohio also can earn an hour of CLE credit for every six hours they spend doing pro bono service. Lloyd said the goals of the Ohio Justice Bus will be achieved only if local attorneys give time and expertise.
"When we help our more vulnerable neighbors, we help everyone," Lloyd said.
Web Tool Offers Step-by-Step Direction for Legal Problems
In the digital realm, Ohio Legal Help empowers Ohioans to navigate their civil legal issues through a simple, screen-by-screen guide. The answers generated from the site are tailored to a person's distinct problem as well as their geographic area, Lloyd explains. Housing, family, and consumer issues are a few of the topics the site covers.
Because there are people who don't think of their problem as legal, OAJF invested in search-engine optimization so that Ohio Legal Help appears when someone Googles common problems, Lloyd adds. And the site was designed to function on mobile phones, which their research shows is how most people who need this information will access it.
She notes that the site identifies action steps a person needs to take and, if appropriate, directs the person to a local lawyer referral service. If a form needs to be completed, the site walks through a guided interview and then produces a completed form like TurboTax does, she said.
By delivering legal help to underserved communities with the Ohio Justice Bus and offering a website for those who wouldn't, or don't know to, reach out to an attorney, Lloyd believes these resources will curb Ohioans' unmet legal needs.
Many Varied Ways to Help
While high-need areas of law are the focus of legal aid organizations feeling the weight of those daunting demands, there are countless other opportunities for attorneys to offer assistance where the help is no less necessary and no less appreciated.
George Carr has devoted time to the Volunteer Lawyers for the Arts (VLA), which is operated by the Cleveland Metropolitan Bar Association. Carr has set up charitable entities for artists to receive grant money. He also has reviewed contracts and leases, resolved disputes, and ensured that artists get paid. The artists often start long-term professional relationships with the VLA lawyers, Carr said.
"Having a lawyer on tap who they can call is extremely helpful," Carr notes. "It creates a mental shift for the client. When the guidance is free, the person feels free to ask questions."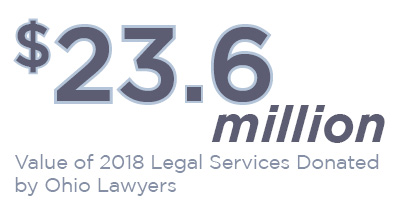 Carr even formed a foundation for a descendant of Tadd Dameron, a well-known Cleveland-born jazz composer and pianist who worked with Charlie Parker, Dizzie Gillespie, and other jazz legends. Carr said the contrast with his day job at Sikora Law, where he handles title claims and property development litigation, is "refreshing" and resonates with him because he started as an artist and has a college degree in music.
"The private practice of law, and the focus on billable hours, can feel kind of mercenary," he said. "The noneconomic focus of pro bono work is important to me, and many other lawyers, morally and spiritually."
He adds that the law is ultimately a service profession.
"Doing pro bono, I help my client, help change how people see lawyers, and help the world," he said.
Even the small gestures lawyers make to steer people through legal problems are valued and fulfilling. Judge Margaret Quinn of the Oakwood Municipal Court must consider potential conflicts of interest when doing pro bono. Working within those boundaries, Judge Quinn has been able to write a letter for someone in an immigration case and assist periodically in non-contested divorces.
"Pro bono is mostly listening, caring, and working through the issue with someone," she said.
Pro Bono a Win-Win for Public and Lawyers
All across the state, the public's need for legal guidance in civil cases is ongoing. And, even following one tragic night of tornadoes in Dayton, residents there continue to call on attorneys. Henrici said negotiations with insurance companies about damages is currently the area of greatest demand. Fortunately, as legal aid groups enlisted assistance, local law firms "really have risen to the challenge" in taking referrals, she said.
Other issues are benefitting from attorney help as well, including dealing with contractors that scam people to steal insurance money, addressing child custody violations when a parent had to move from a destroyed or uninhabitable home, and appealing denials of aid from the Federal Emergency Management Agency.
Attorneys are tackling basic, yet essential, needs both during tragedies and other life crises by using their distinctive legal expertise. Lloyd of OAJF views lawyers as problem-solvers, and that's a skill with positive payoffs for the public and each individual lawyer.
"Pro bono clients are so appreciative that they've been valued and helped," she said. "Lawyers will get more than they give."
---
CREDITS:
Design and Photography: Ely Margolis
Web: Erika Lemke