Rethinking Courts
The future arrived early in Ohio courts. For the past seven years, grants from the Ohio Supreme Court have funded technology projects across the state judicial branch. This year, in the midst of COVID-19 restrictions, 143 courts received requested funds. Here's how they are taking steps to advance operations and make it easier for the public to interact with the justice system, during the recent burst of technology.
When the coronavirus pandemic rattled the norms of the justice system last year, it pushed technology to the forefront as a safe way to keep courts open, via a virtual environment. The demands from courts, though, were immediate, and the needs at times, substantial. The Ohio Supreme Court responded, offering millions of dollars in tech grant funding.
Grant disbursements continued into 2021. The Supreme Court prioritized projects aimed at ongoing use of remote technology and digital tools. In May of this year, Chief Justice Maureen O'Connor made a total of $8.65 million in awards using monies from the budget of the Supreme Court.
Courts across the state, and the country, have been strategizing to make online hearings more of the standard, with all due attention to constitutional issues and public transparency. Numerous grant applications that streamed into the Supreme Court reflected these new realities and a desire to incorporate what's been working into the post-pandemic world.
"If COVID-19 has taught us anything, it's that remote technology is crucial to ensuring our courts are open for those who need to be there, and for the public and the press to be afforded virtual access to court sessions," Chief Justice O'Connor said.
The novel circumstances have made clear just how essential a role tech can play in keeping the judicial branch functioning and accessible to all.
'The Court Is a Community,' Not a Building
The Cleveland Municipal Housing Court is among the courts that will keep holding virtual hearings – which was how it handled 95% of the caseload in the past year. But its grant applications also stood out for noting the digital divide among the people the court serves. About 46% of the city's households lack cable, DSL, or fiber broadband options, and 31% have no broadband access of any type, according to U.S. Census data. That's a barrier to offering online options for those with cases in housing court.
In Cleveland's housing court, the judge hopes to address the city's digital divide in part by taking the court to the community.
Judge W. Moná Scott plans to strike against this digital divide.
The one-time city fair housing administrator recognizes there are residents without internet access, Wi-Fi, personal computers or laptops, tablets or smartphones. With a portion of its $77,810 in grants, Judge Scott intends to "bring the court to the community."
"Cleveland Housing Court will use technology to innovatively change how it interacts with the community moving forward," the court's grant application stated.
The idea is to place video conferencing stations, or kiosks, in community/recreation centers, city public libraries, and Cuyahoga Metropolitan Housing Authority building lobbies so the people of Cleveland can have their day in court – but online from convenient locations. She envisions starting with two kiosks on the city's west side and two on the east side.
It's an acknowledgement of the difficulties for many people to get to court when called. Trips to a courthouse cost money for gasoline and parking or for alternative transportation. And there's finding childcare and taking time off work.
The community kiosks will make attending court easier and afford greater accessibility for those with disabilities, Judge Scott said.
"I want to see an uptick in those participating," she said.
Supporting these advances necessitates a boost to the current technology at the courthouse. Judge Scott notes the court's Wi-Fi went down twice in the past year, halting virtual hearings. Several were delayed. Others had to be rescheduled.
Grant money will fund the purchase of portable Wi-Fi hot spots. These will power up the court and provide backups if one connection fails – "to allow for court proceedings to continue seamlessly with no interruption," the grant application stated.
Tenants, landlords, and others who attend housing court – which also manages code violations related to fire, zoning, waste collection, sidewalks, agriculture, and more – are fans of the court's virtual hearings and planned innovations, Judge Scott said. Parties can be in different places yet still participate. And not just defendants. Online proceedings are helpful for victims, witnesses, and involved agencies.
She notes that inspectors can join cases while working out in the communities, sometimes sitting in their parked vehicles to jump onto a hearing. Lawyers are responding positively as well.
"They don't have to bounce all over. They can manage their calendars better," she said. "They ask me to talk to other judges about implementing the same steps."
In her view, the court is something greater than its physical location in the downtown Cleveland Justice Center.
"The court is a community rather than a building," Judge Scott said.
It's a perspective that will fuel other ideas that also received funding – virtual self-help options, upgrades to the court website – and, no doubt, more to come in the future.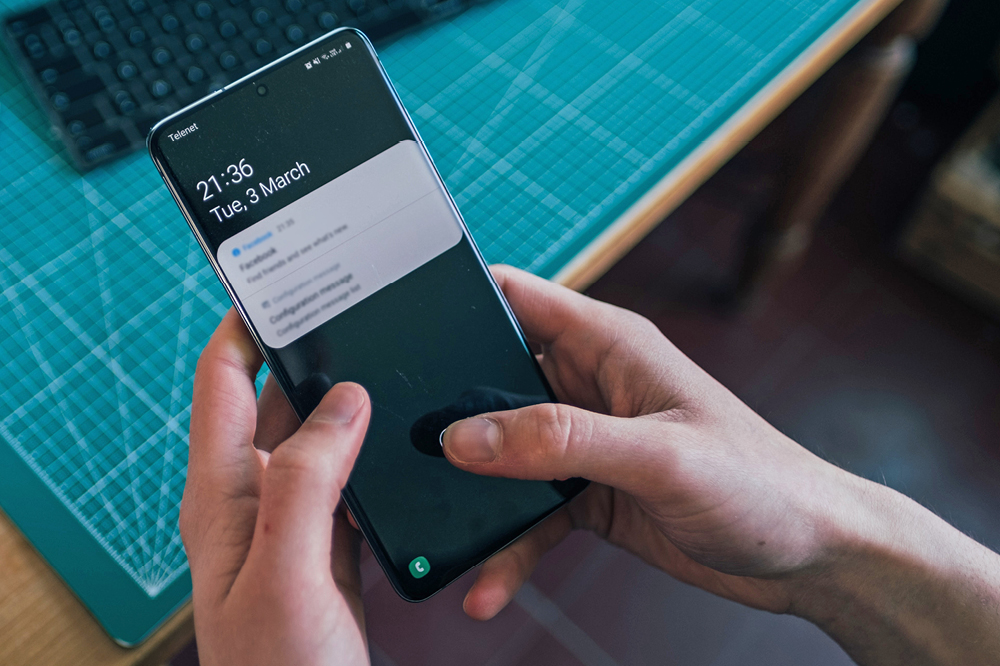 Text and email notifications of court dates will benefit numerous defendants in Jackson County who lack permanent residences.
'Catching Up with the World'
On the southern side of the state, the Jackson County Municipal Court is looking to modernize. The court plans to update its case management system – the first upgrade since 2008 – to simplify case processing by allowing automatic docketing, time stamping, and case disposition.
"We want to let the computers do this work, and have staff check it," said Bailiff Nate Miller.
The $105,530 grant will launch a program for email and text notifications to parties in cases and implement other endeavors.
Miller said the email and text notifications will be especially useful because a significant number of defendants in the county are transient, lacking reliable addresses. U.S. mail notifications of court dates don't work well.
"But they all have phones, and access to email," Miller said.
When someone doesn't show up for court, a warrant for an arrest may follow – complicating the defendant's situation and draining limited county resources. It's a one-judge municipal court, and Judge Mark Musick and Miller are hopeful the technology will alert more people to the need to attend court and cut the number who fail to appear.
Court check-in stations, an electronic search-warrant application, and digital record storage also are planned with the grant money.
When defendants enter the courthouse, they will step up to check-in stations to register their arrival. They will be prompted to fill out required forms, too. The stations generate a checklist, keeping track of when individuals are in the building for court, when they visit the clerk's office, and when they check in with the probation staff, Miller said. Besides running everything more efficiently, the electronic checklist will tell Miller and court staff when someone skipped a step and what wasn't done, he explains.
The new search-warrant system surely will be welcome to Judge Musick.
Currently, when law enforcement from the police department, sheriff's office, or Ohio State Highway Patrol needs approval for a warrant outside of court hours, they must visit the judge's house, Miller said. Sometimes the judge also must trek to the courthouse to review documents.
With an electronic system, much of the process will be done via secure emails and online.
Digitizing court records will be another critical grant-funded initiative. Right now, Miller said, any records more than 4 years old are kept in a tractor-trailer off site. He notes that Judge Musick and his predecessors have wanted to make tech improvements for a long time, and the current clerk of court is amenable, too.
"The basic idea is to catch up with the world in general," Miller concludes.
Seeking Tech While Dealing with Deficits
Aging computer infrastructure, plummeting funding, and COVID-19 collided to place Rocky River Municipal Court in precarious circumstances.
The court, which serves five northern Ohio suburbs, was self-supporting for more than 20 years, said Michael Bracken, the court's systems administrator.
Then in 2020 the court encountered a deficit of more than $500,000 coupled with declining computer and special project dollars. Computer funds had shrunk over the prior decade due to decreasing caseloads, as the court's 48 workstations reached the technologically old age of 13. That's when the pandemic materialized. The court watched traffic and other case filings – which drive its operating revenue – careen downward by 33%.
"We have always been very frugal," said Judge Donna Congeni Fitzsimmons. "Our collections slightly exceeded expenses – until last year."
Meanwhile, to continue serving the public under the pandemic restrictions, the court had to meet escalating pressures on its technology. The massive increase in Rocky River's virtual court appearances taxed its aging computer infrastructure. As staff rotated to work remotely, connectivity to their workstations faltered.
Grant funds of $104,000 will help tackle multiple issues. Upgrading data storage hardware and servers will stabilize and enhance the day-to-day work, including processing cases, offering e-services, and supporting probation needs.
"Our servers are long in the tooth," Bracken said. "We really needed to get the horsepower to be able to handle all these cases."
"The grant was perfect timing," Judge Congeni Fitzsimmons notes.
Currently the court's electronic payment system struggles to accommodate three or four submissions at one time, and attorneys sometimes hit "logjams" when e-filing. Equipment upgrades will speed processing and minimize these frustrating inconveniences.
Judge Congeni Fitzsimmons is certain the upsides discovered during the pandemic will be woven into a new normal for the court. Video arraignments, for example, have saved corrections facilities money for transportation. Social workers can conduct mental health assessments of individuals in jail over video and make recommendations to the judge more quickly. And, video options expanded those who can safely participate in hearings.
"In domestic violence cases, sometimes victims didn't come to court," the judge points out. "But with remote hearings by video, we've seen participation by victims increase by 80%. They are having their stories heard, and we receive so much more information."
"Our system of delivering justice has really been impacted by remote access to hearings," she adds. "We learned new ways to do our jobs that are an improvement."
Cutting Delays with Check-In System
The Athens County Common Pleas Court will set up a kiosk check-in with its $34,882 grant.
The domestic relations division deals with often contentious divorce, child support, and custody cases. It's "a kind of bedlam" as court staff attempt to keep the parties separated by utilizing the court's waiting area, law library, and hallways, said Judge George McCarthy.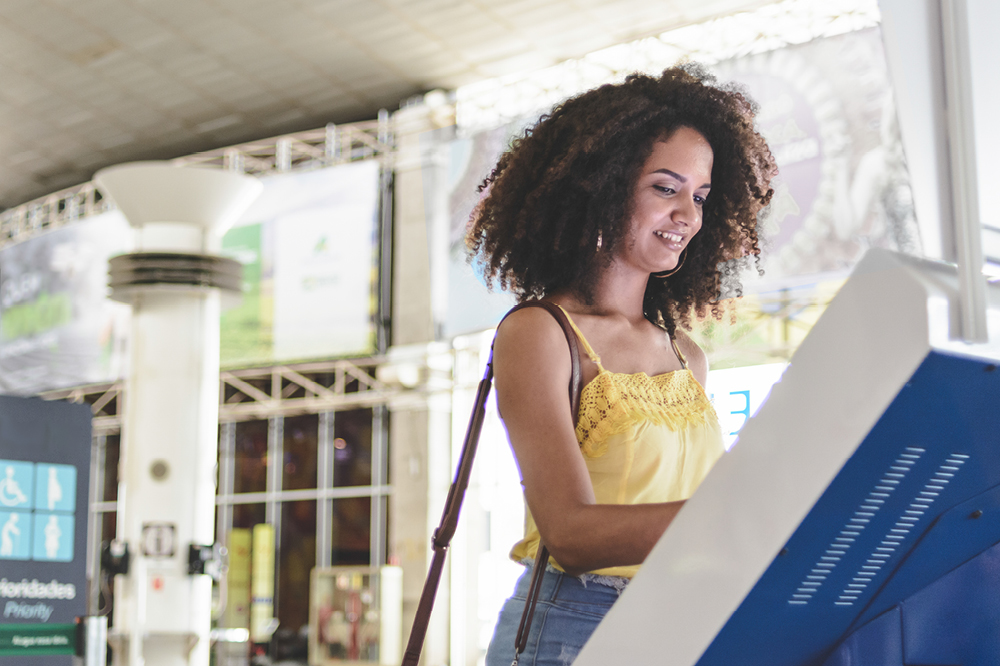 A central check-in kiosk will be installed in Athens County Common Pleas Court to speed up hearings and assist the public.
In the general division, with its hearings and trials, public defenders sometimes have trouble locating clients for the many cases they're juggling in a day. If someone isn't in the courtroom when Judge McCarthy is ready to begin a hearing, he has to send staff into the hallway to call out the case and check whether parties are waiting there.
The central check-in kiosk purchased with the grant will smooth these inefficiencies and tamp down delays. When participants in a case arrive, the assignment commissioner, court staff, and attorneys will be notified. When everyone is at the courthouse, the assignment commissioner will move them into the courtroom to start the proceeding. It should help the public find their way to the correct courtroom, too.
Judge McCarthy thinks the kiosk also will have benefits beyond the obvious streamlining.
"If everyone arrives earlier, we can get started sooner. And we can spend more time with them on their case," he said.
In the future, he pictures stationing similar-type kiosks on the outskirts of the county to assist people on probation. Instead of traveling to visit case officers, who are relatively few in number, perhaps individuals can visit a nearby kiosk that would take a photo for their required check in, Judge McCarthy said. He adds that the kiosks also might handle breath tests for alcohol for those with that requirement.
Judge McCarthy is grateful for the opportunity to seek funding for these types of innovations that advance courts.
"We're a rural, southeastern Ohio town," he notes. "We're not blessed with high taxpayer dollars. We are only able to do this project because of Supreme Court grants."
---
CREDITS:
Design: Ely Margolis
Web: Erika Lemke