Senior Security
Making sure that older Americans are of free from abuse, scams, and poor administration of their finances and health isn't a new pursuit. But as the nation ages, aid from the legal system becomes more critical.
Two adult daughters turned to the legal system this year because they were troubled by how their father's finances were being handled. Their father has dementia and his friend, an accountant, had authority, through a financial power of attorney, over the father's money. The daughters believed the friend wasn't keeping up adequately with the finances.
The situation led the women to Judge Dixilene Park's courtroom in Stark County Probate Court in late September. They asked to be named guardian of their father's "estate," or property, which included his finances, and as guardian of their father himself.
Convinced of the daughters' concerns, Judge Park terminated the accountant's power of attorney and appointed one of the daughters as guardian.
It's an example of the issues confronting those with aging parents, relatives, neighbors, and friends.
Need for Protection, Assistance Likely to Climb
As the population in the United States grows older – and it's happening at a rapid rate – expect such worries about the care and safety of elderly family and friends to escalate. Each day, 10,000 people in the country turn 65 years old, according to the U.S. Census Bureau. In 1900, the number of people 65 and older in the United States was 3.1 million – about 4% of the population, but by 2000 it had grown more than tenfold, to 35 million, which was roughly 12%.
The number of people age 65 and older in the United States has climbed significantly since 1900 – from 3.1 million that year to approximately 51 million in 2019. Source: U.S. Census Bureau.
In 2019, those 65 and older made up 16.5% of the population.
Guardianships are one tool for assisting people with personal and financial decisions and for protecting them from abuse, neglect, or scams, some of which have resulted in the loss of life earnings. In Ohio, probate courts appoint guardians for adults who are determined to be "incompetent." For an older person or a disabled adult, that means they need help because they are incapacitated in some way and can't manage certain aspects of their lives. Family members don't need an attorney to request a guardianship in court.
Judge Park said she considers an array of options when someone's competency is being questioned, pointing out that Ohio's rules for probate courts mandate that judges first look at alternatives less restrictive than guardianships. Those options could include appointment of a power of attorney for finances or a power of attorney for healthcare.
"There's a continuum," said Judge Park. "Some people are a little forgetful. They don't need a guardian, but just a little help."
Besides powers of attorney, courts also may consider a trust, a joint account, a designated payee for certain benefits, or protective services.
Experts Advocate for Elder Bill of Rights and More
Weighing alternatives to guardianships was a centerpiece of this year's National Guardianship Summit. The organizations, advocates, judges, lawyers, scholars, and others who participated focused on practices to establish effective guardianships and reforms. This summit's theme emphasized maximizing the autonomy of those for whom guardians are appointed and ensuring the accountability of the guardians overseeing them. Participants offered 22 recommendations.
Among their recommendations is a bill of rights for adults helped by guardians to ensure their dignity, privacy, autonomy, and full participation in decisions. Also endorsed:
Guardianship diversion programs
Supported decision-making, which is assistance with making and communicating decisions about one's life to others
Tailored and limited guardianship orders
Opportunities to modify or terminate guardianships when circumstances change.
As Judge Park mentioned, Ohio has aspects of these proposals already built into probate court rules. "Best interest," for example, is defined as "the course of action that maximizes what is best for a ward, including consideration of the least intrusive, most normalizing, and least restrictive course of action possible given the needs of the ward."
Diane Robinson of the Center for Elders and the Courts at the National Center for State Courts (NCSC) agrees that the summit recommendations aren't new topics of discussion within guardianship circles.
"But I think these ideas are gaining ground with the public," Robinson said. "I never thought I'd say this, but, 'Thank you, Britney Spears.'"
Pop star Spears has been the subject of extensive recent media coverage as she tried to extract herself from a "conservatorship" set up in California in which her father had control over her money and many of her personal and medical decisions. A California conservatorship is similar to a guardianship in Ohio. The topic generated so much public attention that the U.S. Senate held a hearing in late September on "toxic conservatorships."
It seems clear that two goals are in play with guardianships – to assist and protect individuals, while simultaneously keeping the oversight from going too far. And in rare instances, measures need to be taken to make certain that the guardians themselves aren't causing harm.
"
Those the court appoints guardians for are people who are most vulnerable in the community. We want to be sure they're taken care of.
"
'Court Angels' Mobilized to Check on Wards and Guardians
Judge Park notes that nearly all people for whom guardians are appointed, sometimes called "wards," have positive relationships with their guardians. But courts want to know when there are problems. To safeguard older adults and to avert abuse, neglect, and exploitation by guardians, courts have implemented monitoring programs, Judge Park said.
"It serves as a deterrent to abuse," she said.
State probate court rules require guardians to see their wards at least quarterly. In Stark County, Judge Park requires guardians to visit wards at least once per month. The court also recruits volunteers who agree to check in on wards and their guardians and observe how they interact. Called the Court Angel Program in Stark County, senior citizens and college students often volunteer.
Judge Park wants to thwart situations like one she encountered years ago in which an 84-year-old woman was crawling on the floor of her home to get around. The woman couldn't use her walker in the small spaces of the home, so her daughter, who was her guardian and had to work, would leave food on the floor for her mother. The mother lost 16 pounds in a short timeframe. Visitors checking on the woman rang the alarm bell, and the court appointed another guardian and moved the woman to a facility that could provide more consistent care.
Sometimes courts discover that family members are stretched too thin to give the care that's needed. At an NCSC webinar on reforming guardianships, Judge Michael Long, an associate judge of the Grand Traverse Band of Ottawa and Chippewa Indians in northwestern Michigan, notes that, generally, the first thought is to appoint family members as guardians.
"For a variety of reasons, though, family dynamics might not allow this to occur," he said. "And, further, we find that many individuals are working later in life, so to seek out a guardian to protect our elders we need to make sure that they have time to do it."
A visitor program goes beyond paper reports required by probate courts to interact with a ward face-to face and find out how the guardianship – whether handled by a family member or another person – is working. A recent tally indicates that six of the state's probate courts have launched visitor programs to check regularly on wards. This summer, the Ohio Supreme Court released a toolkit to assist courts in setting up these programs. Community partners, civic service groups, and faith-based organizations can help identify volunteers for the court and spread the word about the opportunities and need. Thorough training and ongoing support from the court for volunteers are key for building a strong monitoring program.
"I would love to see more courts establish active monitoring of guardianships – actually laying eyes on the person, making sure they're OK and that the guardianship is still appropriate," said Robinson of the Center for Elders and the Courts.
"Those the court appoints guardians for are people who are most vulnerable in the community," Judge Park said. "We want to be sure they're taken care of."
"
It's a question of looking at the individual and tailoring a guardianship to that person's needs.
"
Dispute Resolution Can Be Effective in Elder Cases
Along the continuum of options to aid the older adults in her community, Judge Park leverages informal and formal strategies to divert from unnecessary guardianships. Informally, she has had her staff dig into details of a family's circumstances before the court makes any competency determination that would lead to a guardian being appointed.
More formally, she has referred cases to eldercare coordination, a dispute resolution process especially for high-conflict cases.
"It's a way to try to avoid guardianships, but still focus on the older adult's safety, best interest, and making sure they have their needs met," Judge Park said.
In one family that went through eldercare coordination, the mother had received a substantial inheritance, but the three adult sons didn't get along and couldn't agree on the care for their mother. One of the sons lived with his mother but did little to assist around the house, Judge Park said. For the mother to be able to stay in the home, she needed help.
Through the dispute resolution process, the siblings agreed to pay the son living at home to take care of specific tasks, such as making sure his mother ate meals. The family would hire professional services for other needs. As a result of the agreement, the mother didn't have to be moved to a facility, Judge Park said.
Best Plans Depend on Thorough Medical Assessments and Customized Care
By devising guardianships that are limited to only what is needed, courts can ensure that people who require a specific type of help still can retain their autonomy.
"It's a question of looking at the individual and tailoring a guardianship to that person's needs," Robinson said. "There have to be real checks and balances between maintaining independence and protecting the individual."
Probate courts rely on competency evaluations, also called capacity determinations in some parts of the country, when deciding to appoint a guardian. Robinson notes that these assessments from physicians or psychologists are essential to courts in making the best decision for someone.
"It's important to get a good capacity evaluation – something more than a brief report from a general practitioner," she said. "A more detailed evaluation from a gerontologist or a practitioner who specializes in geriatrics will provide specifics to better enable the court to set up the guardianship as narrowly as possible."
Judge Long stated in the guardianship reform webinar that when judges are confronted with a case involving a person they're told has dementia or other disabilities, they at times overcompensate, with the best of intentions.
"The first thing you want to do is protect that individual," he said. "The easy way to do that is to strip them of all authority and place them with this other party. We're learning that this doesn't need to happen, that we can have narrowly tailored orders."
Dallas County Probate Court Judge Brenda Hull Thompson, who also spoke at the webinar, agreed, stating that a limited philosophy is practiced in Texas.
"Creating guardianships is not a license for taking rights away from people," Judge Hull Thompson said. "We want to craft a guardianship that meets needs. We don't want to infringe on individual rights and liberties."
Judge Park points out that wards typically continue to hold many rights, such as the right to vote, to drive, to marry and divorce, and to practice their religion.
"Just because you're a guardian, you don't get to dictate everything," Judge Park explains. "You're not taking over the individual's life. You're just making sure they're OK."
"
Creating guardianships is not a license for taking rights away from people.
"
Scams, Financial Abuses Often Targeted at Elderly
Financial exploitation of older adults is another area of concern that attracts widespread public attention.
Earlier this year, stories splashed across national media about Beverley Schottenstein. Her late husband, Alvin, and his brothers built well-known furniture and retail chains in central Ohio. When two of Schottenstein's grandsons joined JP Morgan Chase & Co. in 2014, she entrusted about $80 million to them as her financial advisers, a Bloomberg News article stated. Over time, Schottenstein, now in her mid-90s, became suspicious about how her money was being managed. According to a 2019 independent review, account statements were missing, Schottenstein's money had been placed in inappropriate and risky investments she wasn't told about, she was charged large commissions, and mysterious charges appeared on her credit card, the Bloomberg article stated. The grandsons said they acted according to her wishes.
In February of this year, Schottenstein won a $19 million ruling in an arbitration before the Financial Industry Regulatory Authority, which found Chase's securities unit and the grandsons liable for abusing their fiduciary duty, making fraudulent misrepresentations, and elder abuse.
Her story doesn't involve a guardianship, but Schottenstein said on a Columbus radio show that friends as well as strangers have thanked her for shining a light on elder abuse, which some had experienced themselves and that can happen to anyone.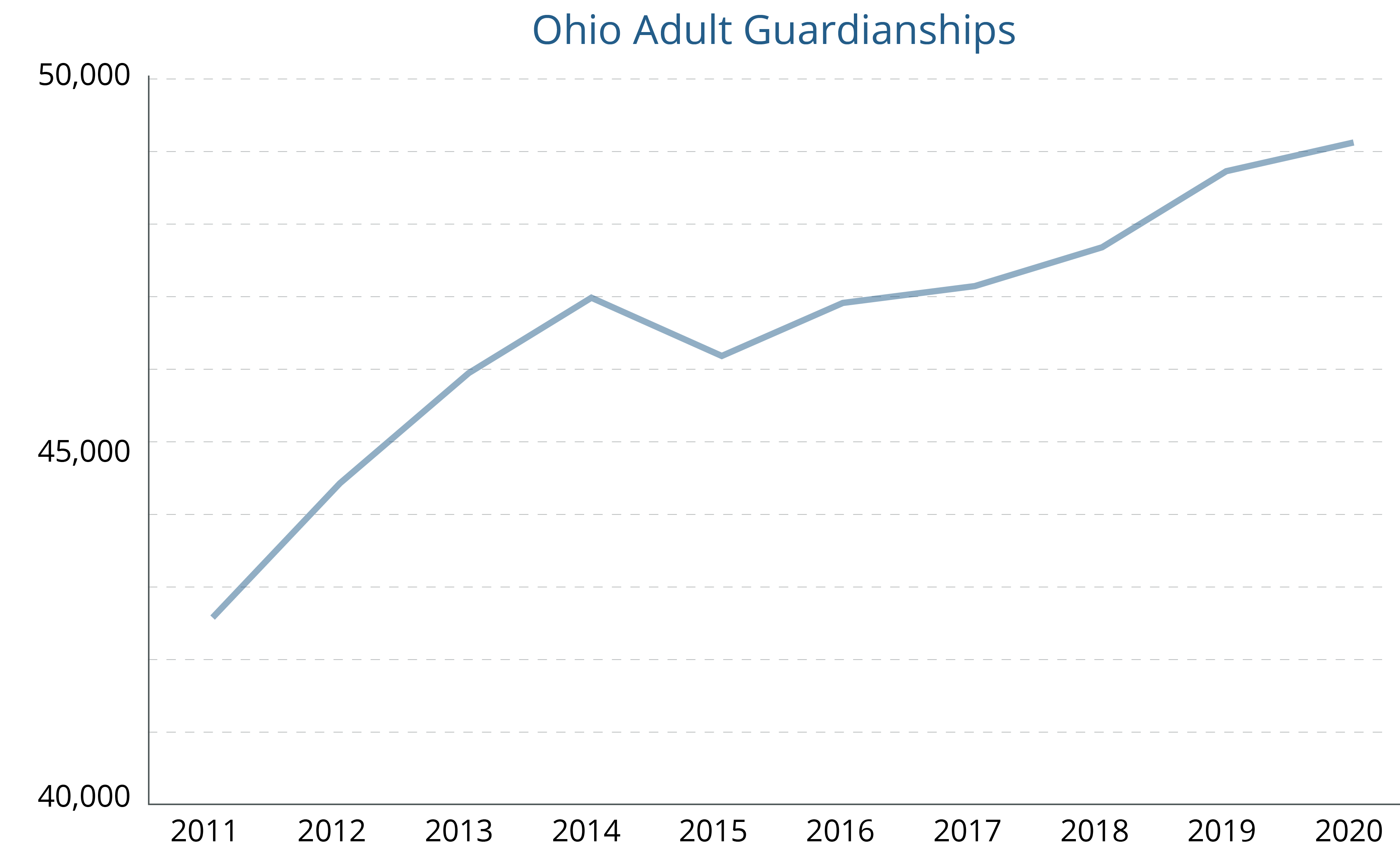 Guardianships approved by Ohio probate courts may stay open for years. The number of ongoing adult guardianships in the state has risen from about 42,000 in 2011 to 49,000 in 2020 – with roughly 6,000 to 7,000 new applications for guardianships of adults submitted annually. Source: Ohio Supreme Court, Case Management Section.
Financial exploitation of vulnerable individuals is seen in Ohio courts as well. Judge Park described a widow in Stark County who was struggling after her husband's death and began drinking heavily. During this time, an online "boyfriend" bilked her of $400,000. The court appointed the woman's daughter as guardian to deal with the financial troubles.
Judge Park mentioned the story also as an example of how guardianships can be temporary and situational, rather than an all-or-nothing approach. Two years after the court appointed the daughter as guardian, the widow had become sober and was going to Alcoholic Anonymous meetings, and a family member had moved in with her. The court was able to terminate the guardianship because it was no longer necessary.
Courts and Partners Work Together to Fight Problems
Probate courts don't work in a vacuum in their efforts to protect and assist older adults. In some counties, court staff join local teams with prosecutors, local aging agencies, adult protective services, sheriff's departments, banks, and Social Security representatives to engage in an ongoing dialogue to tackle these issues. The Ohio Attorney General's Office has an Elder Justice Initiative, which works with organizations and communities to investigate elder abuse cases and improve services.
The Franklin County Probate Court has established a county guardianship service board with the county Alcohol, Drug and Mental Health Board and the Franklin County Board of Developmental Disabilities to pool resources to appoint a "public guardian" when individuals have no other adult or organization available or appropriate to be guardian. The board is staffed with social workers to provide guardianship services. Fairfield County also has created a guardianship board, and the Delaware County Probate Court plans to launch its board in January.
These collaborations reflect a concerted focus to identify and address situations where vulnerable older adults aren't being cared for with dignity and respect or are experiencing neglect, abuse, or exploitation. As Judge Long of Michigan noted, citing a 1977 quote from Hubert Humphrey, the former U.S. senator and vice president:
"The moral test of government is how that government treats those who are in the dawn of life, the children; those who are in the twilight of life, the elderly; those who are in the shadows of life, the sick, the needy and the handicapped."
---
CREDITS:
Design: Ely Margolis
Web: Erika Lemke