Gavel to Gavel
As December days fade, here's a look back at major legal rulings and advances in services from the Supreme Court of Ohio in 2022.
The central duty of the Supreme Court of Ohio is to rule on the state's toughest legal issues, and there was no shortage of notable and high-profile decisions this year. Also topping the list of Supreme Court highlights for 2022 were the elections of judges, dynamic civic education activities, and on-the-ground guidance for courts.
Voters Elect New Chief Justice; Two Other Justices Win Reelection
In November, Justice Sharon L. Kennedy was elected chief justice of the Supreme Court of Ohio, for a term that will begin on Jan. 1, 2023. Chief Justice-Elect Kennedy first joined the Supreme Court in 2012 as the 154th justice, having been elected to fill an unexpired term. She was reelected to the Court in 2014 and 2020.
Chief Justice-Elect Kennedy becomes the second woman to serve as chief justice, the ninth woman to serve on the state high court, and the eleventh chief justice. In her time on the Court to date, she has led a statewide initiative and annual summit to ensure that veterans involved with the justice system, and suffering from the invisible wounds of war, receive the treatment they need and deserve.
Justices Patrick F. Fischer and R. Patrick DeWine, who both were elected to the Supreme Court of Ohio in 2016, were re-elected in the November election. Prior to serving on the Court, Justice Fischer was elected twice to the First District Court of Appeals and was president of the Ohio State Bar Association and Cincinnati Bar Association. Justice DeWine was a judge on the First District Court of Appeals and the Hamilton County Common Pleas Court. Both will enter their second terms on the Supreme Court.
Overall, 228 candidates were on the November ballot for 171 judicial seats. Along with the three justices, voters also elected 28 judges to the courts of appeals, 127 to common pleas courts, 12 to county courts, and one to a municipal court.
Current Chief Justice Wraps Up 20 Years at Court
Chief Justice Maureen O'Connor closes her chapter at the Court on Dec. 31, capping a long and impressive career in service to the public. She has been a prosecutor, magistrate, judge, head of an executive branch agency, and lieutenant governor, as well as a justice and chief justice.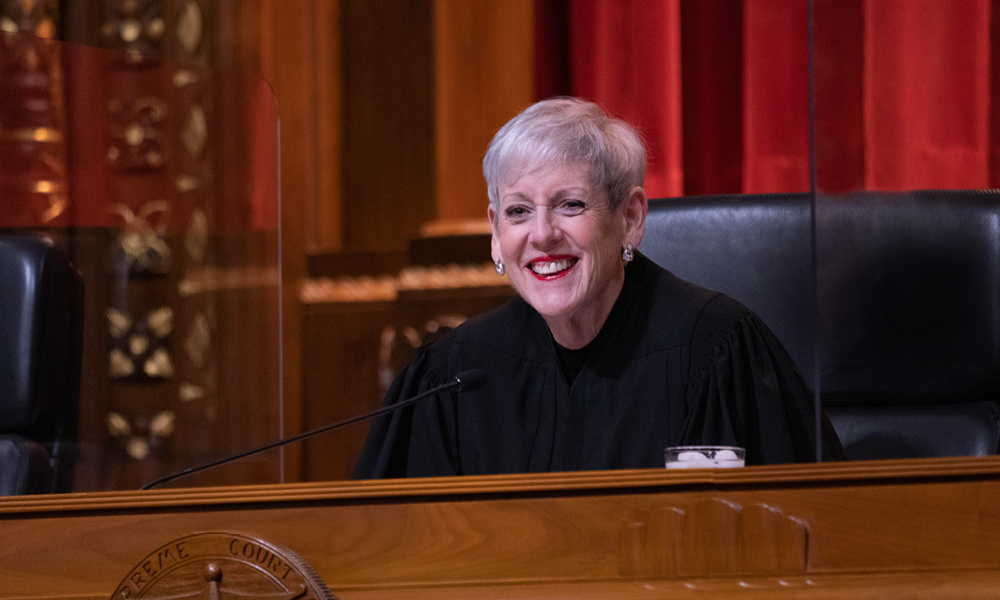 A documentary called "Raising the Bar: The Maureen O'Connor Years" reflects on outgoing Chief Justice Maureen O'Connor's tenure at the Supreme Court and her nearly 40 years in public service.
When taking leadership of the Court in 2011, Chief Justice O'Connor didn't know what challenges the Ohio judiciary would be facing, but she had a plan for how to tackle them. "Continuous improvement" is what the chief justice wanted from her time on the bench. She pointed to several areas where that was achieved:
Advancements in technology.
Use of data to drive better decision making and public awareness of the judicial branch.
The expansion of specialized dockets to address addiction and mental health issues.
Bail reform.
Enhanced judicial and civic education.
Voter information campaigns on judicial elections and candidates.
Increasing diversity, equity, and inclusion in the justice system.
On a personal level, Chief Justice O'Connor said she is leaving the job with a grateful heart and appreciates Ohioans for every public office they entrusted her to take.
Railroad Crossings, Redistricting, Juvenile Rights, and Pandemic Closures Weighed by Court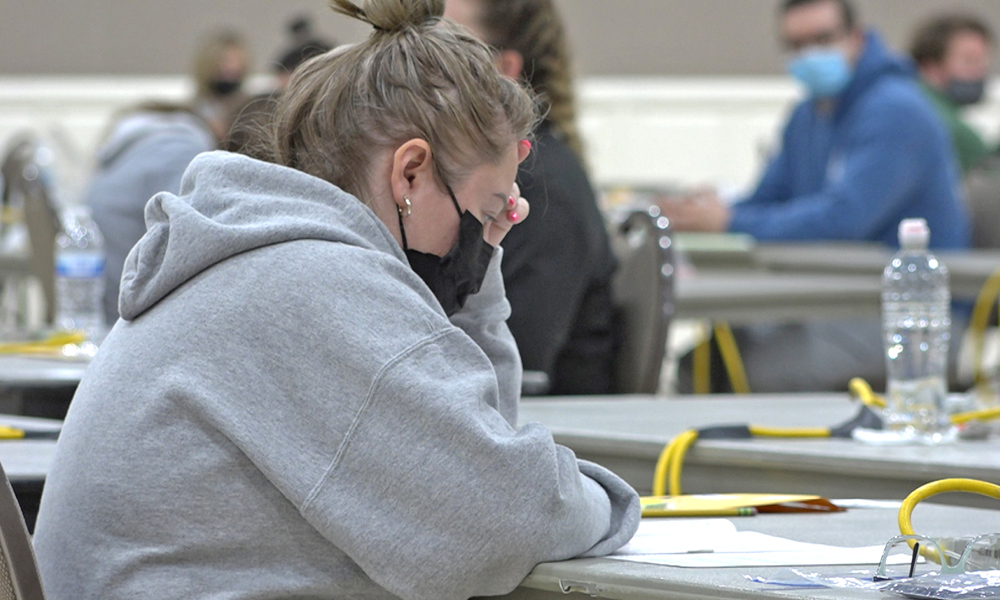 After two years, in-person testing for admission to the practice of law in Ohio resumed. Roughly 300 applicants took the multiday exam in February, and nearly 1,000 sat for the test in July.
Court Implements Changes to Bar Admissions Process; Holds In-Person Test
In January, the administrative process to be admitted to the state bar moved online. The Court's Office of Bar Admissions finished a transition, which began before the pandemic, from a paper-only system to an electronic one. The digital platform allows applicants to submit required documents electronically and also upgrades payment methods.
After two years of remote testing, the February Ohio Bar Examination was held in person in Wilmington, Ohio. The previous three exams were administered online because of the COVID-19 pandemic. The return to in-person testing focused on safety – with staggered start and departure times and more spacing between test-takers.
The February exam also was the first time the Uniform Bar Examination (UBE) was held in person in Ohio, requiring different instructions and implementation. The UBE, which was introduced in the state in February 2021, makes it easier for successful applicants to practice law in other states that have adopted the UBE – currently 38 others plus the District of Columbia and the Virgin Islands.
In July, the two-day in-person exam drew 970 applicants – the most people to sit for the test since 2016.
Ceiling on Self-Study CLE Removed
The Supreme Court decided this year that lawyers no longer will be limited on the amount of continuing legal education (CLE) requirements they can fulfill through approved self-study courses, such as real-time video conferences, teleconferences, and on-demand online classes. The Court first waived the self-study cap during the pandemic. The change becomes permanent on Jan. 1, 2023, giving attorneys flexibility to fit CLE into their schedules while managing the cost of time and travel for in-person programs.
Postconviction Integrity Report Issued
The Task Force on Conviction Integrity and Postconviction Review delivered recommendations to the Supreme Court, which released the report in August. The recommendations fall into three general categories:
Changes in laws and criminal rules.
Education for attorneys.
Creation of an Ohio Innocence Commission.
The task force of judges, attorneys, legislators, and other stakeholders looked at policies and practices on conviction integrity and fairness. The group analyzed data on convictions as well as current laws and criminal rules. They heard from national experts and looked at models from other states for best practices. The recommendations are designed to advise the judiciary and the legislature.
Justices Conduct Oral Arguments in Fayette County
The Court has a mission to educate students across Ohio about the justice system. To support that effort, the justices travel to Ohio high schools, holding special sessions of Court oral arguments for students and other community members. Fayette County hosted Off-Site Court in April for the students of Miami Trace, Fayette Christian, and Washington high schools. Fayette County was the 72nd county to host Off-Site Court, which began in 1987.
More Guidance Delivered for Local Courts Dealing With Overdose Crisis
The Court devotes resources to supporting local courts by listening to the dilemmas they face and developing tools to assist. Central among the challenges for several years has been the opioid crisis. Then, during the COVID-19 pandemic, overdose deaths escalated to record-setting numbers. And the pervasiveness of fentanyl is taking a rising toll on communities statewide.
To help the judicial branch, the Court's Specialized Docket Section produced a multi-faceted guide detailing proven best practices as well as innovative and promising strategies on how courts can assist people dealing with addiction. The guide, which became available in January of this year, highlights a four-part approach to treating those who enter the justice system with substance use concerns – evaluating the risks and needs of the person accused of a crime; referrals to specialty dockets that offer therapeutic-oriented court supervision; medication-assisted treatment; and emergency procedure instruction.
"During this very challenging period, we must do everything we can to help those who come before our courts struggling with substance use issues," said Chief Justice O'Connor. "The Court's guide equips judges and their staffs with a series of options since there are so many different paths to recovery."
Local courts can share tech knowledge and ask questions through a Supreme Court service called "Ask IT."
New Online Forum Helps Courts With Technology Hurdles
Information technology leaders in Ohio's judicial system are banding together to share ideas and solve technology challenges through an IT Leaders Forum. Coordinated by the Supreme Court, the forum is an electronic collaboration space for court staff who manage technology.
Earlier this year, the Court launched a service called "Ask IT," which expanded opportunities for local courts to find assistance. Local courts with forum members can submit questions within the group for input and answers. For courts without a member on the forum or with limited technology resources, a designated email also was set up to find answers from, and interact with, the forum members. The initiative allows courts to work together to share real-world experiences on crucial topics, from case management systems and workflow to cybersecurity.
Resources Grow to Assist Local Courts
With technology becoming so crucial to efficient court operations statewide, the Supreme Court compiled new guides, filled with ideas and solutions. These were recommended in 2021 by the Improving Court Operations Using Remote Technology (iCOURT) Task Force.
"A Judicial Guide to Conducting Remote Hearings": Identifies essential steps and minimum requirements when holding an online court proceeding – addressing not only technology, but also attorney-client communications, document exchange, accommodations for those with disabilities or limited English proficiency, and other factors.
"Technology Plan Guidance for Local Courts": Provides courts with a step-by-step approach to adopt a technology plan. Effective earlier this year on July 1, if a court uses technology for delivering services, it needs to adopt a local rule with a technology plan.
The Court also published the Probate Court Desktop Guide in January to assist new and seasoned clerks with the work of probate courts. The reference encompasses the wide range of questions clerks may have when handling their daily duties and detailed, concise instructions for educating new staff. Managing the court docket, issuing marriage licenses, and certifying records are among other subjects covered. The desktop guide also offers information about court costs, with specific Revised Code references, and direct links to standard probate forms. It works as a companion to the probate bench cards used by judicial officers.
New Mural in Court Captures Women's Impact
A new three-painting mural, "Century of Women and the Law," on display in the Moyer Judicial Center illustrates the fight for women's right to vote and recognizes the 13 women out of 162 total justices to serve on the state Supreme Court.
Newcomers to the Supreme Court senior staff this year took leadership roles in diversity, education, and inclusion and in public information.
Key Positions on Senior Staff Filled
The Court's first diversity, equity, and inclusion (DEI) director joined the staff on May 1, and a new director of public Information began in that role in January.
Adrianne Fletcher, the DEI director, was an administrator and professor at Case Western Reserve University. She became Case Western's assistant dean for diversity and inclusion in 2018, working across the institution to provide strategic and collaborative leadership to meet the DEI needs of faculty, staff, and students.
Among her responsibilities as DEI director, Fletcher will identify ways for the Court to better mirror the state's diverse demographics and enhance understanding of access for people with disabilities or with language barriers. Fletcher also will advise on recruitment, education, and retention of Court staff, and assist judicial and administrative educational programs related to DEI.
As director of public information, Lyn Tolan leads Court communications, which focuses fostering understanding and awareness of the Supreme Court, state courts, and the justice system. Tolan has been a communications leader in government and the news media, and for public and private companies. She served as director of policy and communications for the Ohio Development Services Agency and as communications director for the Ohio Department of Commerce.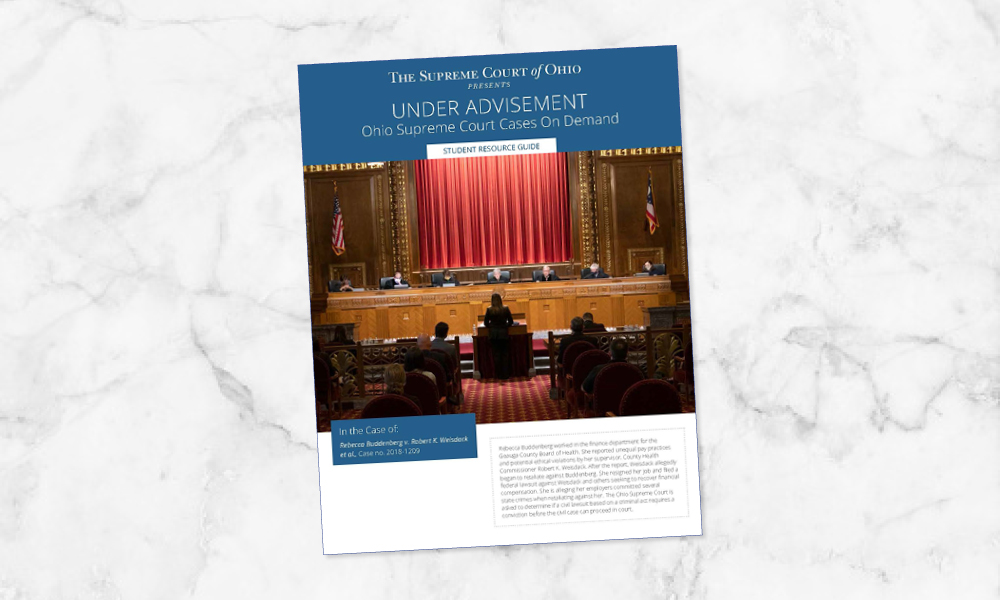 A new civic education course was added to a series for high school students that follows real cases through Ohio courts.
Students Learn About Courts With New Course
The Supreme Court unveiled a new civic education course this March in a series that follows cases through the state judicial system. "Under Advisement: Ohio Supreme Court Cases on Demand" helps educators teach about the state's court of last resort and the types of cases it hears, as set forth in the Ohio Constitution. The curriculum, designed for three or four class days, follows real and relatable cases through Ohio's courts and is aligned with Ohio's learning standards for High School American Government curriculum.
The latest case, Rebecca Buddenberg v. Robert K. Weisdack et al., explores whether a civil lawsuit based on an alleged crime requires a conviction before the civil suit can move forward. The debate turns on the interpretation of two state laws.
African American Tribute on Supreme Court Website
The contributions of African Americans to the Ohio justice system are honored by the Supreme Court on "Celebrating Black History," a Court webpage unveiled in February. Speakers and stories are brought together to highlight the history of African American lawyers, judges, and others who influenced the justice system in the state and beyond. Currently featured:
Prejudice and Progress – A documentary series that explores racial injustice and the legal journeys of African Americans in Ohio.
Ohio on Trial – An investigative series that examines landmark and significant Ohio court cases.
Supreme Court Black History Month celebrations – Ongoing recognition and commemoration of the extraordinary contributions of African Americans to the history of Ohio and the United States.
Forum on the Law Lecture Series – Regional and national speakers address contemporary or historic legal topics, including race and civil rights.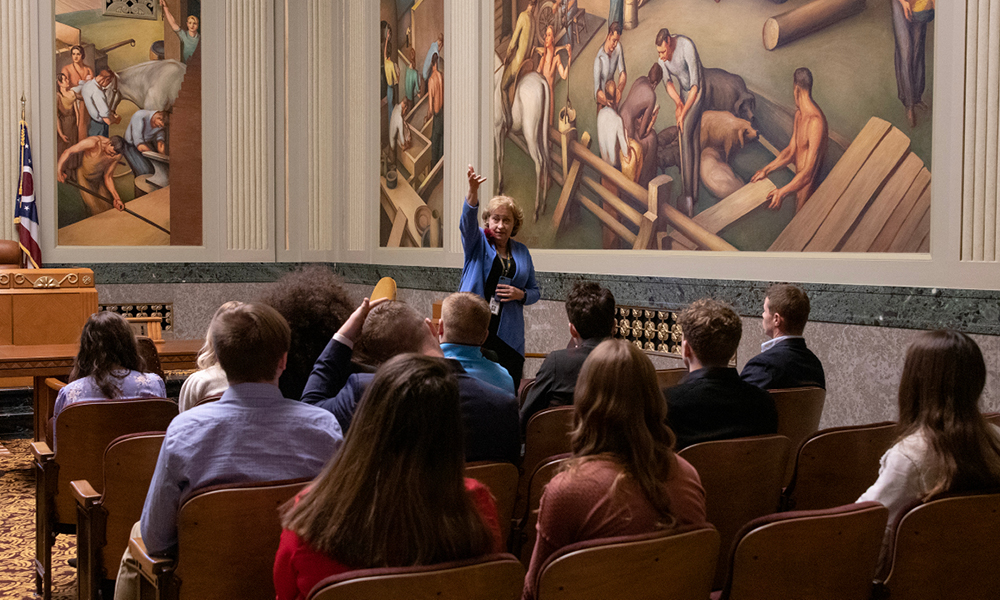 Thousands of students were able to visit the Moyer Judicial Center in 2022 as in-person tours returned.
Students Explore Building, Learn About Courts
Every year, school tours bring hundreds of students to the Moyer Judicial Center in Columbus. After a two-year pause on school tours due to COVID-19, student groups were welcomed back beginning in March to the historic building as part of the Court's award-winning civic education program. More than 4,000 attendees have visited since then, with numbers on the rise.
For more schools to offer the opportunity for their students to learn about the judicial system through on-site tours and at the Visitor Education Center, the Court gives grants to cover the costs of transportation to the Moyer Judicial Center. Grants were awarded for the 2022-2023 school year to 60 schools.
Among the visitors this year were Central Ohio high school students participating in a new leadership program – the Civic Leaders Summer Program through Kids Voting Ohio. The pilot program hopes to close gaps in civic awareness about the three branches of government for students from third grade through high school.
College students participating in women's leadership program at Ohio State University traveled to the Court this summer, meeting with Justices Melody Stewart and Jennifer Brunner, interim administrative director Stephanie Hess, and then Clerk of Court Sandra Grosko.
---
CREDITS:
Design: Ely Margolis
Web: Erika Lemke
Video Stories: Csaba Sukosd