Courts Commit to Love
Courthouse weddings have long been an option for those wanting a simpler and less costly ceremony. Over years of pandemic-driven closures and limitations on travel, courts gave couples an alternative aisle to walk down for their special day.
Agata Riboiro landed in Ohio in late July 2019. The English and Portuguese teacher departed her home country of Brazil to study languages and see other places. Her first adventure was to work as an au pair for a family in Canton.
A few months later, she had coffee with an American. Her goal: Make a friend who could show her the sites around the Canton area. Nothing serious. Her date, Michael Humphries, was in a similar mindset. Given a bad break-up, he wasn't looking for a long-term relationship.
Agata also had lined up a gig for the following year – in 2020 – to teach English in China.
The universe apparently had other plans.
Little did they know a pandemic was brewing that would spill across the globe. For the new loves, though, their future became evident months before COVID-19 reached the Buckeye State.
"The first few weeks of dating went by, and I knew I couldn't live without her," says Michael.
Agata was feeling the same pull.
"By the end of 2019, I knew I didn't want to leave," she says.
They were soon engaged and sharing a 500-square-foot apartment. Michael told Agata he wanted to go to Brazil for their wedding. Then COVID shuttered international travel, putting a lid on trips along with retail stores, theaters, restaurants, workplaces, and entire cities.
With the pandemic restrictions, and the need to figure out visa issues for Agata, they didn't know how they could make an overseas wedding happen. One day Michael stumbled onto a creative solution from Akron Municipal Court. Judge Ron Cable had determined the courtroom was cramped and not suitable for meeting safety protocols. So the court restarted weddings in several outdoor settings across the community by partnering with local organizations.
"Let's go to the court," Michael proposed to Agata. "And I'll give you a big, beautiful wedding in Brazil later."
Agata agreed. The municipal court had announced in April 2021 a set of special locations to choose from – a museum garden, and a few parks and green spaces. The couple was married outdoors by Judge Cable in a gazebo alongside Springfield Lake.
Michael and Agata's union is among the numerous nuptials disrupted by COVID. Many couples had organized ceremonies in houses of worship for family and friends followed by fun-filled receptions. Others planned to travel to far away or fabulous places to celebrate their special days. Nationally, the number of marriages dove 17% from 2019 to 2020 – the lowest recorded since 1963. Ohio probate courts, where couples must go for a marriage license in the state, issued 5,283 fewer licenses in 2020 than in 2019 – an 8% drop.
Knowing that the plans of many betrotheds were being scuttled by the pandemic, courts in Ohio strategized and adjusted for those wanting to make their commitment despite the difficulties. It was a way to keep performing one of the happier events that takes place in the judicial branch.
Agata Riboiro and Michael Humphries were grateful to find a lovely and safe place to marry in Akron in 2021. Judge Ron Cable of Akron Municipal Court officiated the May event at a gazebo, while friends livestreamed the nuptials to Agata's family in Brazil and Michael's sister in Washington, D.C.
Courts Show Flexibility, Appealing to Couples Looking for Options
At Findlay Municipal Court, Judge Alan Hackenberg modified a few standards to align with safety measures. The court limited the number of people who could attend inside the courthouse and adhered to physical spacing guidelines. Masks had to be worn, and worn properly, Judge Hackenberg says, except for the happy couples.
"After all, they're getting married," he points out.
The municipal court saw a bump in weddings – from 36 in 2019 to 51 in 2020, a 42% increase.
Chelsea Beilharz and her now-husband, Kenny, got engaged in August 2019. They have four kids and knew only that they wanted to keep their wedding to close family – nothing extravagant.
"We weren't sure what we wanted to do," she says. "Then COVID complicated everything."
Chelsea's dilemma came up in conversation with her cousin, Deziree Crawford, who happens to work at the Findlay Municipal Court as a deputy clerk. Crawford was married at the court by Judge Hackenberg in 2019. Chelsea and Kenny decided it was the place to tie the knot. Kenny's parents and Chelsea's mom and her mom's husband attended the May 2020 event, along with the couple's four sons. Everyone dressed up, including the boys – who wore matching bow ties.
"Against their will," Chelsea notes.
The boys were further annoyed that they had to wake up early, but Chelsea feels there were many upsides.
"I could call ahead to schedule. Everyone was really nice. The judge seemed genuinely interested in us. And it was super laid back," she says.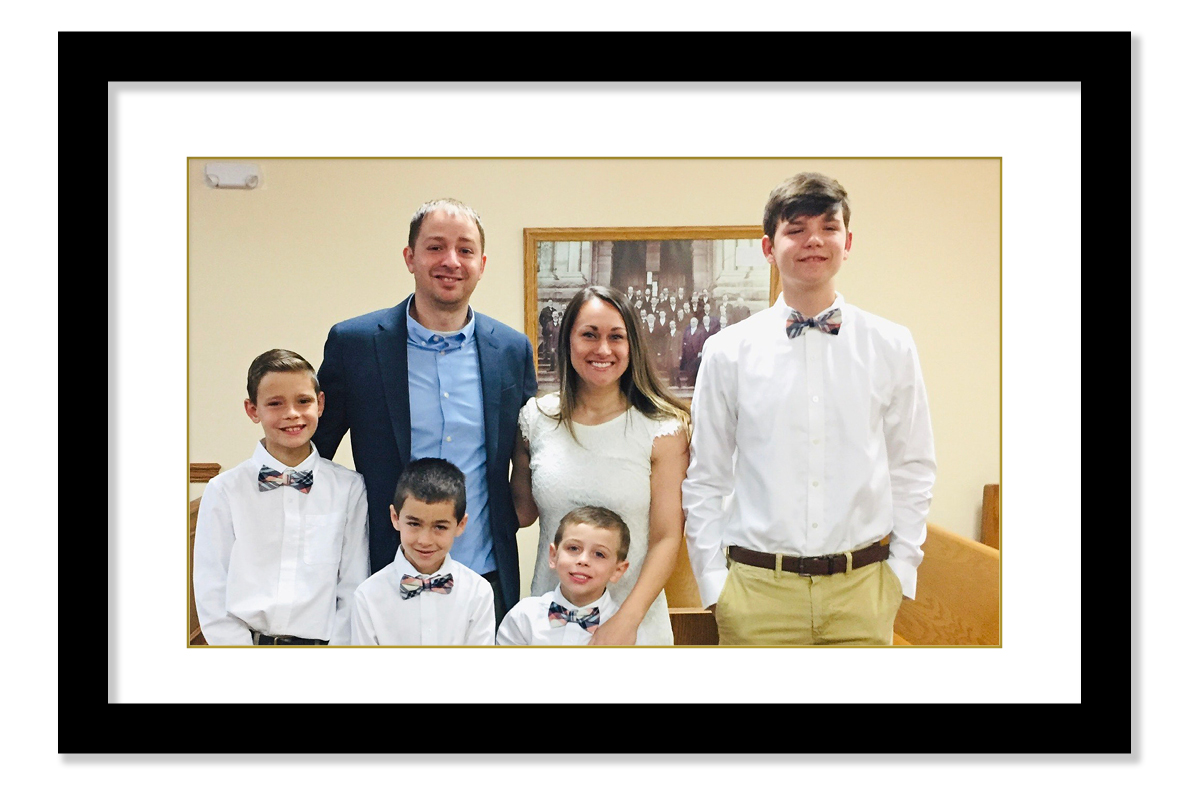 Longtime partners Kenny and Chelsea Beilharz decided in August 2019 to make their commitment official. Stumped about where to get married in 2020 once the pandemic hit, they eventually chose the Findlay Municipal Court. Although the couple's four sons raised objections to the bowties, Chelsea enjoyed the casual and welcoming atmosphere of the courthouse wedding.
The courthouse option spoke to Makenna Dysert, too. Neither she nor her fiancé belong to a church. They both are from large families, who had differing views on pandemic restrictions. Makenna and her fiancé didn't want anyone to feel left out. As they leaned toward a small ceremony, Makenna decided to go with the courthouse. She had been working with Judge Hackenberg for about two years, and there was a special sentimental touch to having someone she knew marry them.
Couples Whether Casual or Formal Welcome
Judge Stephanie Bishop began performing wedding ceremonies once appointed to the Findlay court in April 2021. Judges Bishop and Hackenberg say couples occasionally would opt for spots outside the courthouse – a nearby plaza, the steps of the more ornate common pleas court, a decorated trellis near the mayor's office.
The judges have seen an array of scenarios in the weddings they officiate. Couples with rings; those without. Some with flowers and photographers; others who skip that. Occasionally people who even look to the judges asking, "What do we do?" Judge Bishop says.
And the attire has ranged from formal gowns to "goth" themes.
"It could be an all-flannel wedding," Judge Hackenberg notes. "As different as people are in the world, you see those differences at our weddings."
During the height of the pandemic, couples scheduling weddings at the court often explained that their other plans had been thwarted. The judges also handled a few military marriages – particularly, service members who were in town around holidays. While the court required appointments for weddings during the pandemic, the judges were more than willing to accommodate walk-ins for those in the Armed Forces. One couple included a service member about to be deployed to the Middle East; another person was headed to Europe for the military, Judge Hackenberg says.
COVID or not, the judges find a common theme in courthouse weddings.
"They want to keep it simple," Judge Bishop says.
Variety of Judges Can Officiate Weddings
The go-to person for a courthouse wedding in Athens County is Probate Judge Zachary Saunders. The judge, who took his seat on the bench in December 2020, says people in his county prefer the convenience of saying "I do" in the same courthouse where they obtain their marriage license.
A probate court is always the first stop for those wanting to marry in Ohio. It's where a couple obtains their marriage license. Both individuals must appear at the probate court, provide certain information, and take an oath that the information is true. They must visit the probate court in the county in which one of them lives. Or, if neither is an Ohio resident, couples apply in the county where the ceremony will be performed. The marriage license is good for 60 days.
Once a couple has their marriage license, Ohio allows probate, municipal, and county court judges to officiate weddings. Other sitting or retired judges who are temporarily assigned to a court that conducts weddings are empowered to perform ceremonies. Mayors, ordained or licensed ministers, and a few others also can marry people in Ohio.
The common circumstances Judge Saunders notices in those choosing a courthouse wedding are practicality and limited resources.
"A lot of them are thinking financially," he says.
They may not have the money for a big wedding, he notes. Others in front of Judge Saunders who wish to wed have been together for a long time already and want to marry for health insurance or to show their commitment to their kids.
He has observed that in non-pandemic times, people who decide to have their wedding at a court usually would rather take the consequential legal step of becoming partners than hold a big to-do.
"A court wedding is very personal to them," he says. "They want it to be their day."
When COVID-19 hit in early 2020, Athens County Probate Court Chief Deputy Clerk Connie Sprague heard that many couples were postponing their original celebrations until after restrictions were lifted but wanted to move forward with their marriage. A courthouse wedding made that possible.
Technology Makes Difference, Enabling Family and Friends to 'Gather'
During lockdowns, courts across the country turned to video streaming services like Zoom for many critical proceedings. Weddings were no exception – not so much to marry people who are online and located elsewhere, but instead to allow a couple's family and friends who were constrained from traveling to share in the celebration, Judge Saunders says.
This was notably helpful for weddings involving students attending Ohio University – approximately 25% of the ceremonies Judge Saunders performs. He mentions that two graduate students from Africa were able to have their families "attend" the event over the internet. In the past few years, he has streamed ceremonies for family members in North America, South America, and Europe too.
His favorite judicial duties – both joyful – are weddings and adoptions.
"Getting to know about the people, it's fun," he notes.
The judge, who has performed more than 70 marriage ceremonies since he joined the bench, has a special place in his heart for courthouse weddings. His parents married at a court in Licking County. They wanted an intimate event and, together today, they still talk about the convenience, Judge Saunders says.
He makes it a priority to work with the schedules of those seeking to marry and to accommodate their preference of which day will be theirs. He even keeps a binder filled with the details of each wedding he's conducted.
As the pandemic's power hopefully is diminishing, Judge Saunders anticipates that the days of offering a livestream option for weddings most definitely will not. It has been such a "tremendous help" since 2020, he notes, pointing to the benefits and broad potential – such as enabling an ill or elderly family member to virtually be a part of the special day.
"I don't think I'll ever stop using Zoom," he says. "It maximizes participation, if the couple wants it."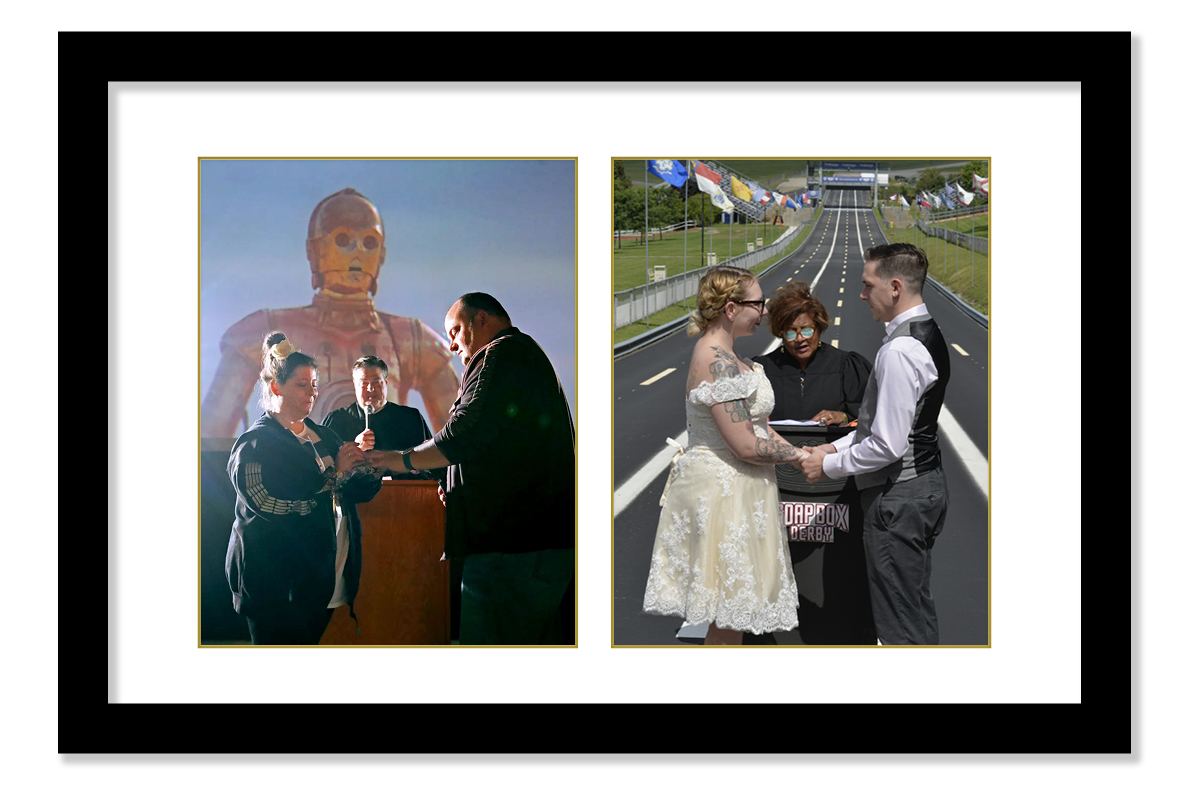 Among the clever options that courts offered since the pandemic began: A "Star Wars"-themed celebration in a theater, with one of the films rolling as a cinematic backdrop. (Photo: Phil Masturzo/Akron Beacon Journal.) And ceremonies held at the starting line on the racetrack of Akron's Derby Downs. Municipal Judge Annalisa S. Williams performed several of those weddings.
Imaginative Ideas Diversify Possibilities
In Akron, Judge Cable describes the offsite and outdoor alternatives as "a big hit." Before the pandemic, the court was known for organizing festive weddings on Halloween and Valentine's Day. The court has held weddings around unusual holidays, such as Leap Day in 2020 right before many venues had to close. Through the pandemic, it added April Fools' Day ("Why Do Fools Fall in Love?") and built options around themes, such as the "Harry Potter" and "Star Wars" movies.
The "Star Wars" weddings, held on May 4 this year – called "May the Fourth Be With You" – drew much local, and even national, news media attention.
One couple, Julie Samuels and Jared Bernstein, bonded early over their passions for the longtime movie series that premiered in the 1970s. They met in Cleveland but were living in different states. One fun way to spend time together over the distance was watching "Star Wars" movies via FaceTime.
They decided to marry and already were making plans for May 4 nuptials when they heard the court was doing the "Star Wars"-themed ceremonies. It was their kind of wedding bliss. The couple's home is adorned with movie paraphernalia, including a Millennium Falcon rug, and their rings are sets they found designed around the films.
The May 4 event, held in a historic Akron theater, featured a projection of one "Star Wars" movie on a screen behind the couples during their vows. Grace Barnard, Judge Cable's judicial attorney, says she eagerly participated. She put on her best Hans Solo gear, and she and other court staff greeted couples with an arch of light sabers. At the wedding, Samuels and Bernstein wore T-shirts: Hers said, "I love you"; his said, "I know." As fans of the galactic franchise know, that response is a Hans Solo quip made to Princess Leia in one of the early films.
Prior to COVID, the court was doing about 300 weddings per year. The numbers are smaller now – 41 in 2020 and 52 in 2021 – but Judge Cable sees a new value.
"Although we do fewer weddings, they seem more meaningful," he says. "I'm pleased to focus on quality over quantity."
Other festive venues for tying the knot during COVID-19 have included the ornate stairs of a historic city performance space and on stage at a live music spot, lit by paper lanterns and candles.
He notes that weddings in the courthouse included, by necessity, many other people connected in no way to the marrying couple. The offsite approach has brightened the atmosphere of the court-officiated weddings.
"Often people in the courthouse are not happy," Judge Cable notes. "But outside the courthouse, everyone is happy to see you as the judge and to be there."
The Akron court's partnerships with community venues continues to expand. In early September, the court revved up for a novel day of nuptials at Derby Downs, the home of the All-American Soapbox Derby. The betrotheds fittingly took their vows at the track's starting line. Other partners with the court include a local live music space and retro diner Swensons Drive-In, recently added to the list for December.
Court Weddings Present Their Own Gifts
As the wedding industry rebounds in a frenzy, costs are climbing exponentially. The Wedding Report, which does market research, found the average cost of a 2021 wedding was about $27,000. That was up from 2019's pre-pandemic average of $24,600. The prices of so many basics, from flowers to chair rentals, have jumped, often due to supply-chain problems. Labor costs have also risen, and there's inflation. Venues are already booked years out. For a nominal cost, though, (less than $100 for a marriage license), courthouses remain a reliable, convenient, and fun alternative.
For Agata and Michael, they were excited to find a pretty, outdoor location close by.
"I would have been more apprehensive about getting married at a court without it being something special," Michael says. "What the court offered encouraged us toward getting married this way."
The Springfield Township Gazebo where they married sits aside a lake. When Michael discovered the possibility, he realized that he had fished with his grandfather there as a child. It was a bit of icing on the cake for him.
On their wedding day, Michael's mother and grandmother attended, as did two of Agata's best friends, also au pairs from Brazil working in Canton. Agata's friends livestreamed the wedding for her family back in Brazil and for Michael's sister, who was stuck in Washington, D.C. Agata's family doesn't speak English, so her friends did simultaneous interpreting of the ceremony.
It was a day bubbling with emotion, and Agata was grateful that her family was able to share in it, even in a small way. And the newlyweds made that big, beautiful wedding happen in Brazil, too, on their first wedding anniversary. They renewed their vows oceanside. Michael was able to bring his whole family, "even the dog," Agata adds. He spoke his vows in Portuguese; she said hers in English.
"Our relationship is anything but typical, and we love that" Michael notes. "And the court helped with that."
---
CREDITS:
Design: Ely Margolis
Web: Erika Lemke