Fourth District Judge McFarland Hears Supreme Court Case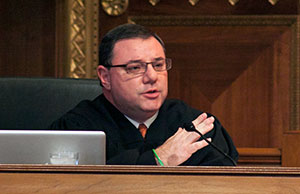 Fourth District Court of Appeals Judge Matthew W. McFarland.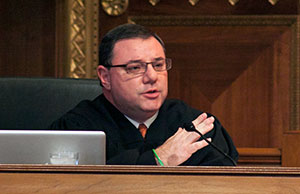 Fourth District Court of Appeals Judge Matthew W. McFarland.
Fourth District Court of Appeals Judge Matthew W. McFarland served as a visiting judge on the Ohio Supreme Court today and heard oral arguments in a class-action insurance case.
Judge McFarland replaced Justice Judith L. French,who recused herself from Cullen v. State Farm (Case No. 2012-0535). The case involves whether the trial court abused its discretion in certifying a class-action by giving insufficient weight to arguments advanced by the insurance company regarding the merits of the plaintiffs' claims.
According to the Ohio Constitution, in the event of a recusal by a justice, the chief justice can select any of the 67 sitting Ohio appellate court judges to sit temporarily on the Supreme Court.
Judge McFarland last served as a visiting judge on the Supreme Court in 2011.
Judge McFarland has served on the appellate bench since 2004 and also serves on the Board of Commissioners on Grievances and Discipline. Previously, he was the Scioto County Court of Common Pleas Probate/Juvenile Magistrate. Prior to his judicial service, Judge McFarland was a criminal prosecutor, special counsel to the Ohio Attorney General, and in private practice. He in an adjunct professor at Shawnee State University. Judge McFarland earned his law and undergraduate degrees from Capital University and is a graduate of Wheelersburg High School.
"It's a high honor to sit on the Supreme Court of Ohio and hear a case in that majestic courtroom. I am very grateful to serve all Ohioans on such an important case and privileged to be asked back by Chief Justice O'Connor," Judge McFarland said.
The Fourth District Court of Appeals serves 14 counties in southern and southeastern Ohio, and hears cases from county, municipal and common pleas courts as well as original actions in habeas corpus, mandamus, prohibition, procedendo and quo warranto.