Retired Judge Celebrates 105th Birthday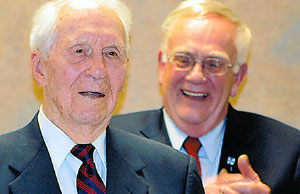 At 105, retired Judge Joe Moorhead (left) is believed to be the oldest living retired judge in Ohio.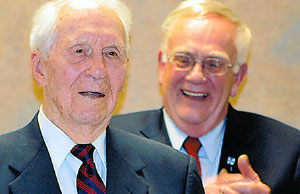 At 105, retired Judge Joe Moorhead (left) is believed to be the oldest living retired judge in Ohio.
When retired Judge Joe Moorhead was born in 1908, the 4th modern Olympic games opened in London. He is believed to be the oldest living retired judge in Ohio as he celebrates his 105th birthday tomorrow.
Judge Moorhead graduated from Ohio Northern University College of Law in 1939 and practiced in Findlay before being elected as the Hancock County prosecuting attorney one year later. His tenure as prosecuting attorney was interrupted for two years when he served in the U.S. Army during World War II.
Judge Moorhead switched from the bar to the bench in 1949 when he was elected as a probate judge. In 1953, he was elected to the common pleas bench and served until his retirement in 1976.
Judge Moorhead is a little private when it comes to being interviewed but during his 100th birthday, he told the Findlay Courier that several changes to the courts, including the 1963 U.S. Supreme Court ruling Gideon v. Wainwright, requiring judges to assign attorneys to poor defendants, transformed the justice system.
"It brought a lot of changes by the time I was leaving," Judge Moorhead had said. "It was very different."
Hancock County Probate and Juvenile Court Judge Allan H. Davis said he has known Judge Moorhead most of his life. His grandmother was friends with Judge Moorhead's mother, and Judge Davis also spent time with him on the bench.
"I appeared in front of the judge when I started practicing law in 1968, and after I was elected to the bench worked with him as a colleague until he retired," Judge Davis said.
Judge Davis said their friendship continued even after Judge Moorhead retired from the bench. Judge Davis said that although Judge Moorhead's eyesight is failing, the retired judge remains active and inquisitive about current affairs.
"I had lunch with him several weeks ago, and he maintains his interest in the local bar association wanting to know who is practicing in what law firm," Judge Davis said. "He is also curious about the new lawyers in town – wanting to know if they are from Hancock County, and if so who were their parents and grandparents. In most cases he will remember their family from his years on the bench or from teaching school."
Judge Davis said Judge Moorhead's passion of law and of life is evident as he marks this new milestone.
"Judge Moorhead is a remarkable individual that has maintained his interest in life and people well into his 105th year. We should be so fortunate to live that many years and still maintain our zest for life and interest in others," Judge Davis said.