Democratic Race for Guernsey County Judgeship May Be Headed for Recount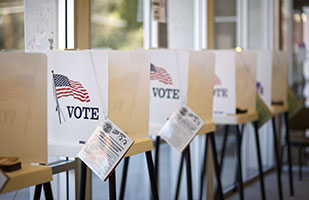 Ohio voters cast ballots for 217 judges in the May 6 primary election. (hermosawave/iStock/Thinkstock)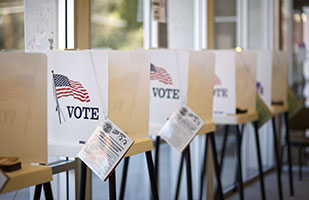 Ohio voters cast ballots for 217 judges in the May 6 primary election. (hermosawave/iStock/Thinkstock)
One vote separates the two Democratic candidates vying to appear on the November general election ballot for Guernsey County Probate/Juvenile Court judge.
Ohio voters cast ballots for that judgeship and 216 others in the May 6 primary election.
According to unofficial results from the Guernsey County Board of Elections, Andrew J. Warhola Jr. leads Kent D. Biegler 918 votes to 917. David B. Bennett was the only Republican candidate on the ballot. He received 1,912 votes.
Bennett, Biegler, and Warhola are seeking to replace retiring Judge Robert S. Moorehead Jr., who was prevented from running again due to the constitutional age restriction.
Given the margin of victory out of the total number of votes cast (1,835), the Warhola/Biegler race presumably will be subject to an automatic recount, according to state elections law.
Judicial elections for the Ohio Supreme Court, district courts of appeals, county common pleas courts, and county courts occur in even-numbered years. In the cycle for judgeships up for election every even-numbered year, 2014 is the one with the most on the ballot that occurs every six years. All judges in Ohio are elected to six-year terms.
Two incumbent Supreme Court Justices – Sharon L. Kennedy and Judith L. French – were unopposed on the Republican primary ballot. Their opponents in November's general election are State Rep. Tom Letson and Cuyahoga County Common Pleas Court Judge John P. O'Donnell, respectively. They were unopposed on the Democratic primary ballot.
As for the state's appeals courts, there were 23 judgeships on the ballot with 4 of those contested races in the primary. Voters elected candidates for 192 common pleas judge positions with 26 of these contested in the primary. County court judges do not run in primary elections.
Supreme Court staff members assemble the election results from the local county boards of elections for administrative purposes and to communicate with new judges about payroll, benefits, and other information.
For unofficial results of the primary, please see a list compiled by Supreme Court staff.