Justices Kennedy and French Swearing-In Ceremony Next Week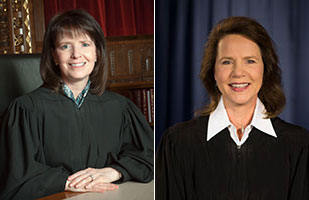 From left: Ohio Supreme Court Justices Judith L. French and Sharon L. Kennedy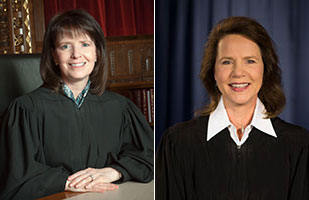 From left: Ohio Supreme Court Justices Judith L. French and Sharon L. Kennedy
The traditional swearing-in ceremony for two Ohio Supreme Court justices is scheduled next week. Justices Sharon L. Kennedy and Judith L. French will be honored on Wednesday, January 14 at the Thomas J. Moyer Ohio Judicial Center in Columbus.
The swearing-in ceremony begins at 3 p.m. in the courtroom and will be streamed live on the Supreme Court and the Ohio Channel websites.
Chief Justice Maureen O'Connor will administer the oath of office to Justice French who began her first full 6-year term on January 2. Justice French was appointed to the court on December 20, 2012, by Gov. John Kasich to fill the vacated seat of retired Justice Evelyn Lundberg Stratton.
Retired Butler County Common Pleas Judge Matthew J. Crehan will administer the oath to Justice Kennedy who began her first full term on January 1. Justice Kennedy joined the court in December 2012 after she was elected to an unexpired term.
Justice Stratton will give welcoming remarks and emcee the program and Mary Amos Augsburger, the Ohio State Bar Association executive director, will address the audience during the ceremony. The Ohio State Women's Chamber Ensemble will also perform.