New Video Preps Potential Jurors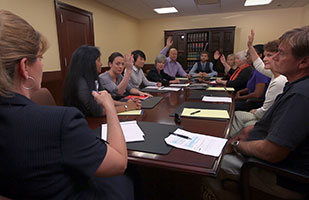 The deliberation process is depicted in a new video about jury duty.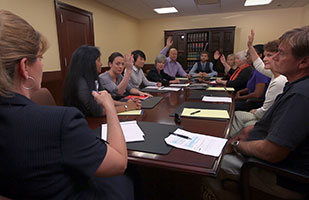 The deliberation process is depicted in a new video about jury duty.
For Ohioans called to jury duty who may have questions about their role in the courtroom, an informative new video is now available.
The jury service video is a collaborative effort of the Ohio Judicial Conference, the Ohio Supreme Court, the Ohio State Bar Association, and the Ohio Channel.
"The video gives an overview of Ohio's court system and explains what jurors should expect when they are called to serve," Delaware Municipal Court Judge David Gormley, who co-chairs the Ohio Judicial Conference's Public Confidence & Community Outreach Committee, said. "The goal is to make the video available to all Ohio judges and courts as a way to educate the public about the key role that jurors play in our judicial system."
Chief Justice Maureen O'Connor provides the video introduction, in which she states the importance of devoting the time to answer the call to jury service: "We are privileged to live in a country where our state and federal constitutions guarantee the right to a trial by a jury of our peers."
"In addition to the public education the video provides our courts, this is also a great tool for teachers to talk with students about our third branch of government," Ohio State Bar Association President Martin E. Mohler said. "It is never too early, or too late, to learn why jury service is so important to our democracy."
Information in the video includes:
What to expect during the jury selection process
Procedures for jury deliberations
Proper courtroom behavior
The video is available on the Ohio Judicial Conference website. Judges who would like DVD copies should contact Justin Long at Justin.Long@sc.ohio.gov or 614.387.9756.