Courts Follow in Footsteps of Ohio Supreme Court Female Majority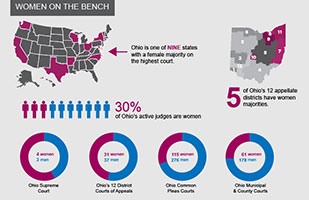 Ohio courts and others across the nation continue to see an increase in women judges.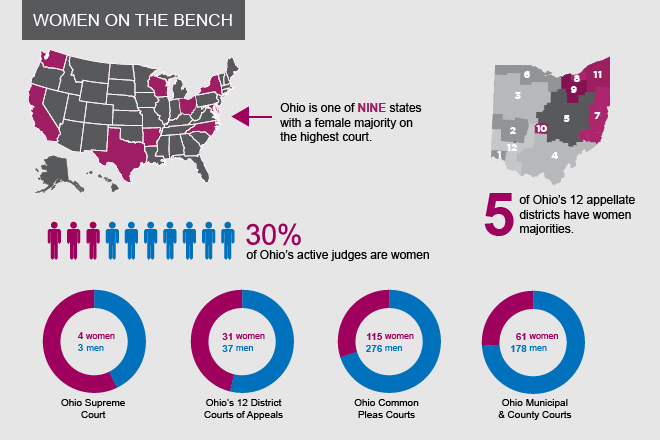 Ohio courts and others across the nation continue to see an increase in women judges.
Now in its fifth year with four women on the bench, Ohio's Supreme Court continues its longest consecutive streak with a female majority. Meanwhile, other courts in the state and around the country continue to grow in the ranks of women judges.
In January, Arkansas became the ninth state to have a female majority on its highest court, joining Ohio, California, Wisconsin, Washington, Maryland, New York, North Carolina, and the Texas Court of Criminal Appeals (Texas has two courts of last resorts, one civil and one criminal). That's an increase from seven in 2014. The District of Columbia's highest court also has a female majority.
Including the all-women Ninth District Court of Appeals, five of Ohio's 12 appellate districts now have women majorities - the Seventh, Eighth, Tenth, and Eleventh. As the nation celebrates Women's History Month, the National Women's Law Center notes that nearly 50 percent of law school students are now women, and the number of women in the judiciary is on the rise nationally.
"Whether we are talking about gender diversity or racial/ethnic diversity, a diverse judiciary enhances public confidence and benefits the judiciary itself," said Magistrate Judge Stephanie K. Bowman of the U.S. District Court Southern District of Ohio in Cincinnati.
Judge Bowman is the immediate past president of the Ohio Women's Bar Association whose mission is to promote the leadership, advancement, and interest of women attorneys. Judge Bowman refers to a quote from Dina Refki, executive director of the Center for Women in Government & Civil Society at University at Albany-SUNY, when noting ways the legal system benefits from the diversity of its judges.
"When we see more judges who look like us, it inspires trust, credibility and confidence in the judicial system," Refki said. "We feel more confident that this system of justice is representative. We have trust that these judges will be fair, because the system is 'of the people.'"
In the past six years, the number of active female federal judges increased from 25 percent to 32 percent. The National Women's Law Center says despite the record number of women appointed to the federal bench in recent years, the federal courts still have a long way to go in reaching gender equality.
In Ohio, where judges are elected, or appointed then stand for election, 30 percent of the 705 active judges are women. There are presently 17 judicial vacancies in Ohio courts.
Judge Bowman said the judiciary is doing better than the larger law firms in recognizing the value of having women in leadership roles. And while it's impossible to point to one specific thing contributing to the increase in women on the bench, she noted that women are applying for federal judicial positions and running for election in state judicial races in higher numbers than in the past.
"It is possible that women are seeking out judicial positions in part because women are not advancing in firms as quickly as they might like," she said. "Alternatively, women may be more comfortable putting themselves out there and taking their career advancement into their own hands."
Read more about the rise of women judges in Ohio and nationwide in the March edition of CNO Review.

PDF files may be viewed, printed, and searched using the free
Acrobat
®
Reader
Acrobat Reader is a trademark of Adobe Systems Incorporated.