Supreme Court Reminds Attorneys of Rules of Practice Changes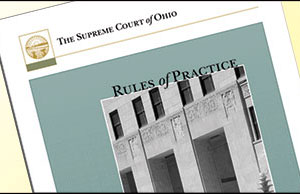 Rules of Practice changes become effective January 1, 2013.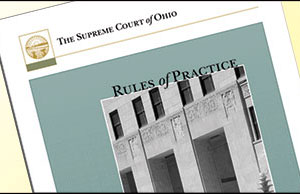 Rules of Practice changes become effective January 1, 2013.
For attorneys who practice before the Ohio Supreme Court used to citing portions of Rules of Practice in case documents, the New Year will ring in new cites to the Rules of Practice.
On December 7, the Supreme Court announced reorganized and renumbered Rules of Practice that mirror the flow of a case.
The reorganization presents a more logical ordering of the rules for attorneys and self-represented litigants that is intended to help them locate filing requirements, according to Kristina Frost, Clerk of the Court.
"We recognize that for some attorneys, this transition will require some extra reading and double checking on the new numbers for rules they regularly cite," Frost said. "We've published the new rules on our website and spread the word to the state bar, local bar associations, and to make sure attorneys are award of the changes."
The Clerk's Office prepared a conversion chart so attorneys can find the old rule they know and compare it to the new, renumbered rule.
View the Rules of Practice.

PDF files may be viewed, printed, and searched using the free
Acrobat
®
Reader
Acrobat Reader is a trademark of Adobe Systems Incorporated.