Indian Hill High School Wins State Mock Trial Competition for Second Year in a Row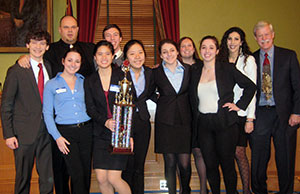 Indian Hill High School has won the Annual Ohio Mock Trial State Competition for the second year in a row.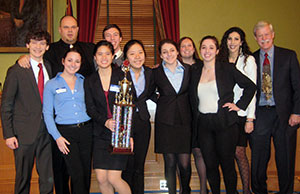 Indian Hill High School has won the Annual Ohio Mock Trial State Competition for the second year in a row.
Students from Indian Hill High School in suburban Cincinnati won the 30th Annual Ohio Mock Trial State Competition on March 9. The school won the 2013 state championship round for the second year in a row and for the fourth time in five years. Orange High School of Pepper Pike placed second in the event hosted by the Ohio Center for Law Related Education (OCLRE). Former Justice Robert R. Cupp served as a judge during the event.
Established in 1983 by the OCLRE as a statewide educational program, the mock trial competition is a simulated trial where high school students learn firsthand about law, court procedures, and the judicial system by competing against other teams in a real courtroom setting.
OCLRE's Mock Trial coordinator Todd Burch said the mock trial competition teaches students about the law and their rights as well as about the Constitution and the legal system. He said the program is very important to students as they learn public speaking, team building, and critical thinking skills.
The high school students have put in long hours of work alongside volunteer attorneys and judges since September. Their mock trial case was titled, "State of Ohio vs. Dakota Allen," and the students analyzed an individual's rights under the Fifth Amendment regarding improper confessions.
Around 365 teams from 185 schools across Ohio participated at the district mock trial competition at the beginning of February. From there, 104 teams advanced to the regional competition, and only 26 teams competed at the state level.
Lisa Eschleman, OCLRE executive director and co-chair of the 2013 Ohio High School Mock Trial Case Committee said the students' knowledge of the argued case was exceptional.
"What impressed me this year is just how polished these students were," Eschleman said. "There is no doubt in my mind that they've spent hundreds and hundreds of hours analyzing this case in order to get to this level of the competition."
This is Indian Hill High School's fourth state championship. The school also won in 2009 and 2010. Orange High School has participated in the mock trial competition for the previous 11 years. The students have made six state appearances.  
Indian Hill will represent Ohio at the national level in May in Indianapolis.
Watch the
2013 state championship round
of Indian Hill High School verses Orange High School.