Ohio Legal Assistance Foundation Releases 2012 Annual Report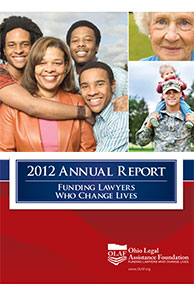 The Ohio Legal Assistance Foundation has released its 2012 annual report.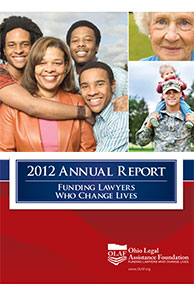 The Ohio Legal Assistance Foundation has released its 2012 annual report.
The Ohio Legal Assistance Foundation distributed nearly $16 million in Fiscal Year 2012 to legal aid societies to serve the unmet civil legal needs of low-income Ohioans, according to the foundation's 2012 annual report, which was released this week.
Created in 1994, the foundation "helps to fulfill the promise of access to justice for all" by funding legal aids across Ohio, 2011-2012 foundation president H. Ritchey Hollenbaugh wrote in his introductory letter in the report.
The 32 counties served by Advocates for Basic Legal Equality and Legal Aid of Western Ohio received the greatest share of funds in FY12 with $3,429,044 followed closely by the $2,858,225 designated for the five-county area served by The Legal Aid Society of Cleveland.
The report further noted that 25 percent of the cases resolved for legal aid clients dealt with family matters, 23 percent for housing issues, and 16 percent for consumer concerns. Foundation Executive Director Angela Lloyd said that family law and housing consistently rank as areas of the greatest need for legal aid clients year after year.
In 2011, 35 percent of legal aid cases involved maintaining income and employment, while preventing homelessness represented 25 percent of the cases, and the share of cases devoted to helping families and protecting children was 22 percent.
To find a civil legal aid provider, call 1.866.LAW.OHIO (1.866.529.6446) or visit www.ohiolegalservices.org/.
Attorneys interested in pro bono work may search a pro bono opportunities guide at whttps://www.ohiolegalaid.org/pro-bono/.

PDF files may be viewed, printed, and searched using the free
Acrobat
®
Reader
Acrobat Reader is a trademark of Adobe Systems Incorporated.