Justice O'Neill Testifies About Judicial Election Reform Before Constitutional Commission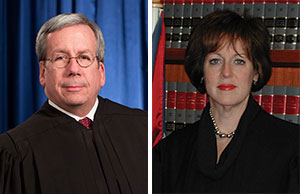 From left: Justice William M. O'Neill and Chief Justice Maureen O'Connor.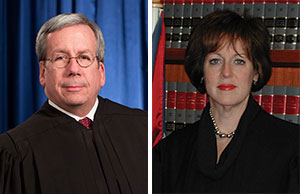 From left: Justice William M. O'Neill and Chief Justice Maureen O'Connor.
The newest member of the Ohio Supreme Court today endorsed portions of Chief Justice Maureen O'Connor's eight-point plan to strengthen judicial elections and offered some ideas of his own.
Justice William M. O'Neill testified before the Judicial Branch and the Administration of Justice Committee of the Ohio Constitutional Modernization Commission.
Justice O'Neill said he supports proposals to hold all judicial elections in odd years and to increase voter information about judicial races.
Because of the "noise" that drowns out judicial elections in presidential/gubernatorial election years, Justice O'Neill said he believes "it is wholly appropriate that we consider moving all judicial elections to the odd-numbered years to permit the voters the ability to focus on this important task."
He paired his idea to publicly finance judicial campaigns with a proposal to create an independent commission to educate voters "about the real qualifications and experience level of candidates."
Saying that no judicial reform discussion can be complete without addressing fundraising, Justice O'Neill suggested paying for the campaigns through a $10 filing fee on court cases.
"A simple solution would be to allocate funds to candidates who are selected by the primary process so that they can get their message out effectively while avoiding the demeaning and ineffective method of turning our judges into beggars in the marketplace as they raise the funds to become known," he said.
Chief Justice O'Connor thanked Justice O'Neill for joining her in calling attention to the issue of judicial election reform.
"There is much common ground here, particularly on the principle that now is the time to address these issues," she said. "I appreciate Justice O'Neill's support for the idea of moving judicial elections to odd-numbered years when they would not have to compete for voters' attention with other important contests."
Announced during her annual address in May at the Ohio State Bar Association convention, Chief Justice O'Connor has been leading a public discussion about the plan on the website (www.OhioCourts2013.org) and in a series of meetings with groups around the state.
The plan identifies a series of issues and poses questions surrounding specific potential reforms for public consideration. The eight questions include:
Should Ohio Change the Law So Judicial Races Are No Longer Listed at the End of the Ballot?
Should All Judicial Elections Be Held in Odd-Numbered Years?
Should Ohio Centralize & Expand Its Civic Education Programming and Institute a Judicial Voter Guide?
Should Ohio Eliminate Party Affiliation on the Ballot in Judicial Primaries?
Should Ohio Join the Other States that Have a Formal, Non-Partisan System for Recommending Nominees to the Governor to Fill Judicial Vacancies?
Should Appointments to the Ohio Supreme Court Require the Advice and Consent of the Ohio Senate?
Should Ohio Increase the Basic Qualifications for Serving as a Judge?
Should Ohio Increase the Length of Judges' Terms?
The constitutional commission is charged with conducting a detailed review of the current provisions of the Ohio Constitution, identifying perceived problem areas, and submitting a report proposing specific amendments for consideration by the General Assembly.
The commission's 11-member judicial committee, which includes Supreme Court Justice Judith L. French, is charged with examining the following:
Article IV (Judicial) and Article I sections on the rights under Justice [Sections 5, 8-10a, 12, 14, 15, 16, and 19a]
Judicial organization
Criminal and civil justice system
Rights of the criminally accused
Also, as part of the committee meeting today, Rick Dove, secretary of the Board of Commissioners on Grievances & Discipline, provided an overview of Canon 4 of the Code of Judicial Conduct and some of the issues relevant to judicial campaign conduct regulations.