Secretary Honored for 60 Years at Law Firm, Still Going Strong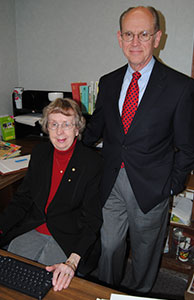 Rosemary Marie Latimer and Hardin County Common Pleas Court Judge Scott Barrett.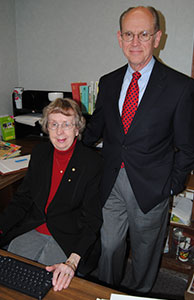 Rosemary Marie Latimer and Hardin County Common Pleas Court Judge Scott Barrett.
When Rosemary Marie Latimer started her current job, Dwight Eisenhower was president and the Korean War was still underway.
Latimer got a job as a secretary in 1953 at Roof Law Office in Kenton, now known as Roof and Barrett Law Office, shortly after graduating from LaRue High School. She's been there ever since, and she is now 78 years young.
Latimer said she likes her job because there's something different going on all the time.
"I always enjoy working with the different assignment commissioners of all the courts our attorneys worked in," Latimer said.
Latimer said her job has changed a lot over the last six decades.
"I had to take notes in shorthand at first, then later we went to a dictating machine, and everything would be put on a disk and I would listen via earphones and transcribe," Latimer said. "When I started, of course, we had a manual typewriter and had to use carbon paper. Then we went to an electronic typewriter and at long last the computer."
Hardin County Common Pleas Court Judge Scott Barrett worked with Latimer for 39 years before he was appointed to the bench.  He said Latimer was a delight to work with over the years.
"She was completely dependable and never missed work," Judge Barrett said. "She kept her work up-to-date, and had an incredible memory for names and clients."
Barrett said he wondered if Latimer would continue to work at the office when her typewriter broke.
"I remember when her electronic typewriter quit working, and I was not sure she would make the transition into the computer age," Judge Barrett said. "I asked her if she wanted to switch to a computer, and she said 'Let's do it.' We did, and it worked out beautifully."
"I was afraid of it at first, and then I plunged in and loved it!" Latimer said.
Barrett always joked with Latimer, saying he would quit practicing law when she retired.
"However I was the one to leave to serve as judge," Barrett said. "It was emotionally a difficult day for me when I left the office, and I miss Rose everyday because we were not just co-workers, we were good friends."
Even after 60 years, Latimer said she's still enjoying the ride.