State Opposes Sealing of Convictions Before Restitution is Paid
Supreme Court to Hear Seven Cases on May 13 and 14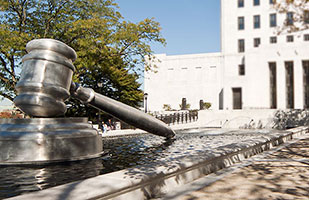 Ohio's justices will consider a death-penalty appeal and cases about public utilities, the right to counsel, and employer liability for on-the-job injuries.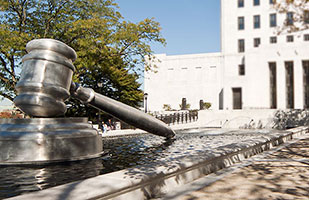 Ohio's justices will consider a death-penalty appeal and cases about public utilities, the right to counsel, and employer liability for on-the-job injuries.
Franklin County prosecutors will ask the Ohio Supreme Court on Tuesday if a woman who pled guilty to theft has the right to have her 2002 conviction sealed even though she is still paying back the roughly $34,000 she stole.
Sharlene Aguirre was sentenced to five years of community control for her crime and also required to pay $2,000 to Columbus company Economy Enterprises and more than $32,000 to two insurance companies that had paid on claims stemming from the thefts.
Aguirre completed her community control in June 2007, but prosecutors contend that, based on state law, she must be "finally discharged" before applying to have her record sealed. Final discharge does not occur until all of the sentencing court's conditions are met, including full payment of restitution, the prosecutors argue.
They claim that the Tenth District Court of Appeals incorrectly ruled in part that Aguirre could have her records sealed because she owed money only to the third-party insurance companies. The prosecutors maintain that the identity of those receiving restitution should not be a factor in whether a sentence is complete.
Aguirre counters that once she finished community control and was released from the court's supervision, she was finally discharged and eligible after three years (in 2010) to request that her conviction be sealed. She also asserts that requiring restitution to be fully paid before allowing the sealing of records disproportionately affects low-income offenders.
Along with State v. Aguirre, the court will hear two other cases on Tuesday, May 13 and four more on Wednesday, May 14. The court's sessions begin at 9 a.m. each day at the Thomas J. Moyer Ohio Judicial Center in Columbus. The arguments will be streamed live online at sc.ohio.gov and broadcast live on The Ohio Channel.  
Along with the brief descriptions below, the Office of Public Information today released summaries of the seven cases.
Cases for Tuesday, May 13
The court will consider these cases, in addition to Aguirre, during Tuesday's session:
In Ketterer v. State, a Hamilton man was hit with a skillet and stabbed to death during a dispute over $200. The offender was sentenced to death and also convicted of robbery, burglary, and grand-theft auto. The Ohio Supreme Court ruled that the trial court did not correctly impose his sentences for the crimes not punishable by death and returned the case for resentencing. In his appeal of that resentencing, he argues that he had the right to access witness statements from the initial trial, and that his offenses should have been merged and cannot be served consecutively.
Toledo Bar Association v. Harvey is an attorney discipline case in which a Lucas County lawyer has been found to have violated 25 disciplinary rules in four client matters. The attorney objects to the two-year suspension recommended by the state disciplinary board, asserting that the court should consider several factors that would lessen his sanction.
Cases for Wednesday, May 14
The court will hear arguments in these four cases during Wednesday's session: