Logan Man Brings Wrongful Imprisonment Case to Supreme Court
Among Seven Cases To Be Considered Mar. 10 and 11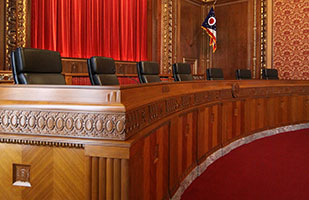 Cases before the Supreme Court involve traffic-camera tickets, open meetings, sex-offender notification requirements, and speedy trial rights.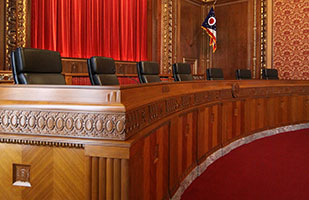 Cases before the Supreme Court involve traffic-camera tickets, open meetings, sex-offender notification requirements, and speedy trial rights.
A second wrongful imprisonment claim from a Logan man convicted of double murder is at the heart of an Ohio Supreme Court case to be argued on March 11.
In May 1990, Dale Johnston was released from prison after the trial court dismissed his case when the state decided it couldn't proceed in a new trial with the evidence it had. Johnston had been convicted six years earlier for the murders of his stepdaughter and her fiancé in Logan.
Following his release, Johnston filed a wrongful imprisonment civil case against the state. In 1993, a common pleas court rejected his claims, finding that he hadn't proved his innocence.
The state legislature amended the wrongful imprisonment law in 2003. With the changes, a person could claim an error in procedure led to release instead of asserting actual innocence.
Then, in late 2008, another man pled guilty to the murders, and an accomplice pled guilty to a related charge. Johnston filed a new wrongful imprisonment action that year.
On Nov. 13, 2012, the Franklin County Common Pleas Court declared that Johnston had been wrongfully imprisoned. Johnston's next step was to file his suit in the Ohio Court of Claims, which determines whether the state has to pay damages. Before that happened, though, the state appealed the Franklin County ruling to the Tenth District Court of Appeals, which reversed. Johnston appealed that decision to the Ohio Supreme Court.
Johnston contends that the statute's 2003 amendments created a new cause of action for those arguing they've been wrongly imprisoned. Because the error-in-procedure claim wasn't available when he filed his first lawsuit, he maintains that he's permitted to pursue this alternative option. He also asserts that a second lawsuit is allowed because he'll have to present different facts to prove the procedural errors.
Johnston v. State will be heard by the court during oral arguments on Wednesday, March 11.
Other Cases Before the Court
The court will consider four cases on Tuesday, March 10 and two other appeals, in addition to Johnston, on Wednesday. Sessions begin at 9 a.m. each day at the Thomas J. Moyer Ohio Judicial Center in Columbus. The arguments will be streamed live online at sc.ohio.gov and broadcast live on The Ohio Channel.
Along with the brief descriptions below, the Office of Public Information today released summaries of each case.
Cases for Tuesday, March 10
These four cases are under consideration:
Cases for Wednesday, March 11
Along with Johnston, these two cases are on the court's agenda:
In Clemons v. State, a Cleveland man accused of shooting a gun at a house in 2009 eluded arrest for the crime for nearly 20 months, then skipped his arraignment. He was eventually arrested in 2012. He argues that his constitutional right to speedy trial was violated because three years passed between the filing of the 2009 criminal complaint and his arrest on this charge.
Another challenge to traffic cameras has arisen in Cleveland v. Lycan. From its 2005 enactment until a 2009 amendment, the city's law imposed fines on vehicle owners for speeding and red-light violations. A group of people who received tickets and paid the fines have filed a class-action lawsuit claiming the law at that time didn't apply to them because they leased their vehicles. The city asserts that the lessees' lawsuit is improper because they didn't appeal their tickets through the administrative hearing process.

PDF files may be viewed, printed, and searched using the free
Acrobat
®
Reader
Acrobat Reader is a trademark of Adobe Systems Incorporated.