Supreme Court Hears Offender's Court Costs Issue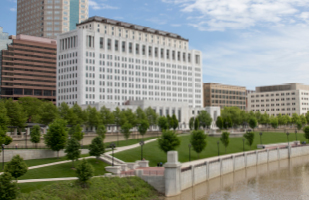 The Ohio Supreme Court will consider trial-court procedures courts must follow before denying indigent defendants' requests to reduce court costs.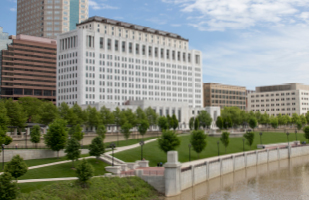 The Ohio Supreme Court will consider trial-court procedures courts must follow before denying indigent defendants' requests to reduce court costs.
A Montgomery County man was sentenced to prison until at least his mid-80s is challenging a trial judge's decision not to waive his mandatory court costs, after concluding the man has to "take responsibility for his conduct."
In Ohio, court costs are assessed against all convicted criminal defendants, regardless of whether they are indigent. But under R.C. 2947.23, courts have the right to waive, suspend, or modify a defendant's court costs. In State v. Taylor, the Ohio Supreme Court will hear oral arguments about the procedures a trial court must follow before it denies an indigent defendant's request to reduce court costs.
Life Sentence Imposed for Armed Robbery
Darren Taylor was found guilty in 2013 of murder and other charges stemming from his role in an armed robbery at a pawnshop where the store clerk returned fire and killed Taylor's accomplice. The trial court imposed a 36-years-to-life prison sentence, and ordered Taylor to pay about $6,600 in restitution, a $192 extradition fee, and court costs that would be determined by the county clerk of courts.
In 2016, Taylor asked the trial court to waive his court costs, asserting that he would be in his mid-80s at the earliest when released from prison, had no assets, and earned $19 per month in prison work-related wages. Because his prison account remained under the $25 threshold to garnish wages, his court-costs debt was growing as the unpaid balance accrued interest. The trial court denied his request, stating that Taylor "made choices which led to the accrual of fees at issue, and he must take responsibility for his conduct, as well as the resulting consequences."
Taylor appealed to the Second District Court of Appeals, which found the trial court performed no analysis of his present and future ability to pay. The Montgomery County Prosecutor's Office appealed the decision to the Supreme Court, arguing nothing in the law requires a trial court to assess a person's present or future ability to pay the costs.
Advocates Concerned about Trial Court Actions
The Washington, D.C.-based NAACP Legal Defense and Educational Fund submitted an amicus curiae brief supporting Taylor's position, and raised the concern that imposing court costs on those without the ability to pay may have a disproportionate effect on African-Americans and other minorities.
Among the concerns raised by the legal defense fund is that unpayable court costs "limit access to the tools of post-incarceration social reintegration," such as jobs, credit, and housing. When made to pay back court costs as a condition of community control, former offenders face economic challenges that can make them ineligible for federal benefits, the organization maintains.
Offenders, and the family members who depend on them, often end up trapped by this legal debt long after they have paid their incarceration debt to society, and because African-American and other minority communities are disproportionately represented among both the defendant and indigent populations, those sorts of problems disproportionately impact them, the legal defense fund notes.
Trial Court's Discretion Debated
The prosecutor notes the law doesn't "impose upon a trial court any mandatory consideration or factual findings that it must make before granting or denying such motions." The prosecutor contends the Second District added a requirement that isn't in the law, and would force trial courts to undertake a responsibility to ascertain whether an incarcerated offender has assets or wages that can be garnished, which already is the responsibility of the Ohio Department of Rehabilitation and Correction.
While R.C. 2947.23 might not specifically state that the court must analyze an offender's ability to pay, the requirement is implied, Taylor maintains, because of the law's wording. Lawmakers wouldn't give trial courts the ability to waive, suspend, or modify — three different options — if they didn't intend for courts to make some sort of analysis of what action to take, he argues. In addition, if a trial court doesn't have to assess the ability to pay, then the decision is essentially unreviewable by an appeals court, Taylor asserts.
Oral Argument Details
Along with Taylor, the Court will hear two other cases during its Tuesday, Jan. 7 session and four more cases on Wednesday, Jan. 8. Oral arguments begin at 9 a.m. at the Thomas J. Moyer Ohio Judicial Center in Columbus. All arguments are streamed live online at sc.ohio.gov and broadcast live and archived on The Ohio Channel.

Case Previews Published
In addition to the information provided in this article, the Court's Office of Public Information today released in-depth previews of the cases, available through the case-name links.
Tuesday, Jan. 7
A federal court in Ohio is presiding over a breach-of-contract lawsuit regarding insurance coverage for a defective product made from a faulty chemical. The court has asked the Ohio Supreme Court how the state interprets a "those sums" clause in the chemical maker's insurance policy. In Lubrizol v. National Union Fire Insurance Company, the opposing sides cite a 2002 state Supreme Court decision interpreting an "all sums" clause in an insurance policy and its use to cover the damages caused by environmental pollution. The Court will consider if a "those sums" clause works similarly to the "all sums" clause and allows the business to choose one of its many policies to cover up to $50 million of its settlement costs.
In Columbus Bar Association v. Armengau, an incarcerated Columbus attorney objects to a recommendation from the Board of Professional Conduct that he be disbarred. The attorney was convicted of rape, kidnapping, public indecency, gross sexual battery, and sexual imposition, and was sentenced to 13 years in prison. The attorney maintains his innocence and argues his disciplinary case should've been delayed until all of his ongoing appeals are concluded. He also maintains he should have been permitted to present evidence at his disciplinary hearing about the nature and character of the crimes, and suggests an indefinite suspension as an alternative to disbarment.
Wednesday Jan. 8
A Springfield man received consecutive prison sentences for heroin trafficking, fentanyl trafficking, and cocaine trafficking. Some of the drugs police had recovered in 2016 contained a mixture of heroin and fentanyl. In State v. Pendleton, the man contends that his heroin and fentanyl convictions should have merged because his sentences were based on the weight of a substance that included both of the drugs. He maintains he was sentenced to multiple punishments for the same crime – which violates his constitutional protections against double jeopardy. The prosecutor counters that the drugs cause distinct harm and that the state legislature intended to impose separate sentences for different trafficking offenses.
A Cuyahoga County man accused of raping and kidnapping two women was declared indigent and assigned an assistant county public defender to defend him. The public defender discovered his office represented one of the victims in two previous criminal cases, and he told his client about the potential conflict of interest. The public defender asked the trial court to withdraw from the case and he was denied. The public defender appealed the decision before the trial started, and the appeals court granted his request. In State v. Barnes, prosecutors object to the appeals court's action, arguing the public defender acted too early and should have investigated to see if there was any actual information within the public defender's office that would have demonstrated a conflict before seeking to withdraw.
A former Sylvania assistant prosecutor intentionally made false representations to a municipal court judge, then lied about his conduct to his superiors, when he agreed to reduce a drunken-driving charge to a lesser sentence. While the attorney acknowledges that he violated the rules governing the conduct of Ohio lawyers, he objects to a proposed six-month suspension. In Disciplinary Counsel v. Spinazze, the lawyer argues that based on sanctions levied on other attorneys who committed similar misconduct, he should receive a fully stayed suspension. He maintains the Board of Professional Conduct didn't adequately credit him for taking responsibility for his actions when it recommended the suspension.
A class-action lawsuit against an auto manufacturer was filed in October 2012 in a California federal court alleging issues related to a defective balance shaft gear in one of its sport utility vehicles. An SUV owner filed her own lawsuit in Franklin County in February 2015, while the class action was pending. As part of a national settlement about a month later, the federal court laid out the steps for opting out of the settlement, but the Ohio SUV owner didn't take those steps. The automaker in McAdams v. Mercedes-Benz USA LLC contests an Ohio appeals court ruling that the owner sufficiently opted out of the class action by filing her separate lawsuit and argues that the decision undermined the federal court's determination of which class members had opted out.

PDF files may be viewed, printed, and searched using the free
Acrobat
®
Reader
Acrobat Reader is a trademark of Adobe Systems Incorporated.